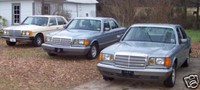 If you're looking for a reliable, long-lasting, inexpensive car, it's hard to beat an old Mercedes diesel. The diesels from the 1980s, including the 300SD, 300SDL, 300D, 240D, 300TD, and 300CD are relatively inexpensive to purchase, and they can still be reliable cars after all these years!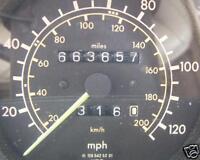 After driving 300SDs, 300SDLs, and 240Ds for many years, I have become a die-hard fan, and wouldn't dream of owning anything else! I have a 1984 300SD with 679,200 miles (1,093,067 km), with the original engine, as verified by the previous owners. Never had an overhaul or any major work done! Unreal!! My wife's 1980 240D has 330,000 miles (531,084 km), and my step-daughter's 1987 300D has 294,000 miles (473,147 km). All three of our cars are driven regularly. These cars will last for years with regular service and maintenance!
This is not all-inclusive, but a short breakdown just of the diesel Mercedes that I'm familiar with follows: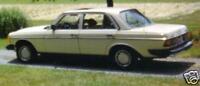 240D: mid-size four-door sedan. This car came standard with a 4-speed manual transmission, but optionally could be purchased with an automatic. Production ended in 1985 in Germany, although they were no longer imported to the U.S. after 1983. Efficient, though very underpowered, they were highly reliable cars. The 240D used a 2.4L 4-cylinder diesel with no turbocharger. If you're looking for fuel economy, reliabilty and safety, the 240D is your car, but it's no power house! With just 67 horsepower (on later models), you don't pull out in front of someone and think you're going to speed up and get out of the way! These cars often had vinyl seats, hand-crank windows, and manual seat adjustments, which is great because they seldom break! The passenger-side side-view mirror and sunroof were options, as were the turbine-fan-style wheels. (My wife's previous 240D 4-speed is pictured) The 240D is my all-time favorite W123 body car. Sidenote: This car originally came with hubcaps as seen in the photo, but I replaced them with the turbine-fan-sytle wheels. The turbine-fan style wheels were a factory option for the 240D.) I used to alternate between the old wheels and hubcaps and the optional wheels just for a change, every now and then.
300D: W-123 body mid-size four-door sedan. This car used the same body as the 240D, but had a 3.0L 5-cylinder diesel engine, the same as the 300SD. U.S. models were only offered with an automatic transmission, but European cars were offered with a four-speed manual transmission as standard and an automatic as an option. The 300D was originally produced without a turbocharger. Turbos were added to the 300D some time in 1981. Production of the W123 bodystyle ended in 1985. Super-nice little cars, with an unbeatable track record for longevity and reliability. The turbodiesel had plenty of power, and is nothing less than a pleasure to drive! Incidentally, the 300D was the first production passenger car to use a 5-cylinder diesel engine. Many, many W123-body 300Ds are still in use every day! Start watching when you're driving around town, and you'll see them on the road every day!

300SD: large-body four-door sedan. This W126 body car also used the turbocharged 3.0L 5-cylinder diesel engine and standard four-speed automatic transmission. This car had standard power windows, power door locks, right-side power mirror, power seats, cruise control, etc. Most often they are found with either leather or vinyl (MB-Tex) seats, but some originally sold out of the country had cloth seats. In 1984, a driver's-side airbag and anti-lock brakes became optional. Great riding car, reliable, and a super-nice car to drive today! (photo is my 679,200-mile car).
300TD: mid-size four-door wagon. This car was the same base W123 body car as the 300D, but the station wagon version. The wagon also had a self-levelling suspension in the rear. A four-cylinder 240TD was built also, but not offered to the U.S. market. I have seen one on ebay for sale a few months back, but it was imported. Too bad they were never offered to the U.S. buyers!
300CD: mid-size two-door coupe. This car was also the same base W123 body car as the 300D, but a two-door coupe version; just a few inches shorter. These cars typically sell for higher prices than any of the other diesel models. All came with standard automatic transmission. This was the first production diesel coupe ever built by any manufacturer!

The original 300SD, W116 body, was built from 1977 until 1980. It was the first Mercedes 3.0L 5-cylinder diesel engine to be turbocharged, in 1977. Great ride, although not as attractive as the newer body styles (in my personal opinion), but just as reliable. Myself, I think they actually ride better than the newer W126 300SD. (Car pictured is a 1980 model that I owned in years past)

Mercedes had so many of these cars running with high miles, they started the High Mileage Award Program. Free of charge, you can apply through your Mercedes dealer for the awards. A total of five high-mileage awards are offered, at 250,000km (155,000 miles), 500,000km (312,000 miles), 750,000km (466,000 miles), 1,000,000km (625,000 miles), and 1,000,000 miles (1,609,300 km). I have the first four awards for my 1984 300SD, and now I'm working on my million mile award! After applying and being approved, a very nice certificate and grille badge for your car will be sent to you for each mileage award. The program alone goes to show how many of these cars are still running every day, and how common it is to find them with happy owners and many, many miles of highway behind them! Your local Mercedes dealer will take care of all the paperwork for you at no cost. They just have to see the car and verify the mileage. They will send in the paperwork to Mercedes and get the process started for you, free of charge. This costs you nothing! Nice way to show everyone how proud you are of your high-mile Mercedes!

UPDATE: These grille badges look really, really nice when first installed, but mine have since faded out as you can see in this photo. It might be best to display them some other way than on your car. I did request and receive free of charge new replacements for them from Mercedes.
In addition to the unbeatable reliability of these cars, there are many other perks to owning them:
Roadside assistance: Unknown to many people, Mercedes offers three services free of charge to Mercedes owners, despite the age, number of owners, or mileage of the car. This applies whether you bought the car new, or if your car is 25 years old with a half million miles and you're the 5th owner! If you run out of fuel, roadside assistance will come out and bring fuel to you, get your car started and send you on your way, free of charge. If you have a flat tire, they will come out and put the spare on for you. If your battery dies, they will come out and give you a jump start. These services are free of charge for the life of the car! If you have trouble other than the three things I just mentioned, they will still come out and get you going again, but you'll be charged. To my knowledge, no other auto maker stands behind their cars like this. If you know of another auto maker that does this for quarter-century-old cars, let me know. Great for elderly or young & inexperienced drivers! Due to several inquiries, here is the phone number for roadside assistance: 1-800-FOR-MERC. Follow the prompts, and be connected to a roadside operator. They will patch you in to a local service center (dealer), get your location, and they'll be on the way! Their response time is unrivalled! I have used them twice (dummy me ran out of fuel once). The second time I called them, a serpentine belt had broken on my 300SDL. I pulled off the road, called on my cell phone, they came out, fixed it, wrote up my bill, and sent me on my way in 45 minutes! And I was about ten miles away from the dealership! That's 45 minutes from the time I pulled over until the time I pulled back on the road!! How's that for fast service!!

Safety: These cars are not built out of fiberglass & plastic! If you are killed in a Mercedes, you had a pretty bad wreck. I saw one of these cars that had been rolled, hit front & rear, and totally looked destroyed. All four doors would still open and close, and the passenger compartment was little damaged. The passengers (3 of them) had no serious injuries in the accident. The pictured burgundy wreck was my step-daughter's very first car, a 1985 300SD, that she totalled at age 16. The frame was bent when hit broadside in the front end by an SUV, but she came out without so much as a bruise. These are excellent cars for new drivers. If you're concerned about the safety of your 16-year-old, buy them a car made out of metal, not a throw-away plastic & fiberglass car!! I can send you links to two GREAT YouTube videos showing the safety of these cars, if you want to email me.
Easy repairs: As solid and reliable as these cars are, they are also built with great simplicity. I'm no mechanic by any means, but I do a lot of my own work on my old Mercedes cars. Most things (not everything) are easy to get to, and replacing parts and making repairs is usually a simple process. The cars sit high enough off the ground that I do not even have to put them up on jacks or ramps to change the oil. The oil filter is canister-type, and sits on the top side of the engine. Remove two nuts, take the cover off, replace the filter, put the cover back on. Easy. Used parts for these cars are readily available, and easy to find. Thousands were built, and many wrecks are in junkyards, waiting for you to snatch a part. Many aftermarket sources of parts insure that you won't have to pay high dealer prices for most parts. I purchased the wrecked 1985 300SD back from the insurance company, and I still have a few parts for sale (engine and tranny are sold). Visit my store and check out the Mercedes Parts category, and email me if you need something that isn't listed! Most parts have already been sold, not very much left! I also have two 1982 300SD sedans that I'm parting out as well, and those two are still mostly complete.
Anti-lockout: A nice feature of these cars made it difficult to lock your keys in your car. The power door locks work from the inside by pushing down the knob on the driver's door, which locks the other three at the same time, as well as the fuel door and the trunk. However, if the driver's door is open, the knob will not go down. So, the only way to lock the doors is from the outside WITH THE KEY! Great idea, every auto maker should have done that! If the vacuum locks aren't working, you still have to really work at it to lock yourself out!

In 1986, the 300SD was retired, and the 300D went through a major bodystyle change. The 300SD's replacement was the 300SDL. Based on the 300SD, the 300SDL was six inches longer, with the extra length being in the back doors and back floorboards. The car used the same body as the 300SEL, 420SEL, and 560SEL, just the diesel version. With a 'sinful' amount of room in the back, this was one of the best travelling cars ever made! The 3.0L five-cylinder turbodiesel from the 300SD and 300D was replaced with an inline six cylinder 3.0L turbodiesel with the introduction of the 300SDL, which gave it considerably more power, even though the displacement was roughly the same. The 300SDL is a great car to own and drive. Only built two years, 1986 and 1987, and only about 13,800 made, they are getting more and more difficult to find with low mileage. The 1986-87 300D also used the 3.0L six-cylinder turbo diesel engine. Those are also great little cars, if you don't like the big-body S-class.
The diesels disappeared from the U.S. market in 1988 and 1989. In 1990 the diesel Mercedes re-appeared in the U.S., in the form of the 350SD and 350SDL. I have never owned one, mainly because I've never heard anything good about them. These cars used a 3.5L inline six turbodiesel. Many owners found that they had major oil consumption and had a tendency to bend piston rods, and many of the engines had to be replaced at 100,000 miles or less, some even while still under factory warranty. Look at the auctions on ebay for the 350SD or 350SDL, and see how many have already had engines overhauled, or replaced! In 1992 the W140 bodystyle was introduced, and model numbers were changed to reflect even 100s (300, 400, 500, 600). The 300SD came back, but it still had the 3.5L engine used in the 350SD and 350SDL. Again, more of the same problems. I would recommend staying away from all the early W140 body cars, gas or diesel, expecially 1992 and 1993 models. Mercedes LOST a class-action lawsuit over those cars, simply because they were so unreliable, poorly built, and PLAGUED WITH PROBLEMS. They were made to pay out a ton of cash to everyone who had bought the cars new! They are very attractive, but they're gonna cost you at the repair shop. Trust me, I owned one! It's hilarious when I see ebay listings for these W140-body cars, and sellers are bragging about Mercedes heritage, when their very car was one of those that marked the first of the crappiest MB's ever built! Similar situation with the 350SD and 350SDL. With those two cars, the car itself is great, but the engine isn't worth the metal it's made of. You're just asking for trouble if you buy one of these cars with this poorly-built 3.5L engine! One ebay member wrote me and said that he didn't take my advice, bought a really nice-looking 1990 350SD, and ended up selling it for scrap right after he bought it! Guess what? The engine puked as soon as he got it home! Trust me on this one!
The most common problems the older Mercedes cars have are the power accessories. Often, power windows, power seats, power antenna, sunroof, door locks, right power mirror, etc. will need repair. Many times it's simply a matter of replacing a switch or antenna mast, or tracing down a vacuum leak. Sometimes, it means replacing various components. These things should be expected with any 20+-year-old car. The air conditioning systems are another problem point, as they were not the most reliable and often need control panels replaced and so forth. Transmissions can be expected to last anywhere from 200,000 to 250,000 miles or more between overhauls. These are all things that will eventually need attention, but I believe these old cars are worth it! I still say it's a lot cheaper than car payments!!
In short, and again, in my own opinion, the Mercedes diesel cars built from 1980 or so through 1987 were the best cars the highway has ever seen. If you're considering a diesel Benz, stay with the 1987 300D, 300TD & 300SDL or older cars. They are old, yes, but if you'll be good to them, they'll be good to you, too! If the oil is changed, fuel & air filters changed, regular maintenance done, and the car isn't abused, it will last you longer than you care to drive it! Someone once told me that I would get tired of driving a Mercedes diesel before it would die on me. After many years of driving them, I've found it to be true!
I wish to make it clear, that with any used car, even an old Mercedes diesel, please, please, always take it to a qualified mechanic who has experience with these old diesels, for a pre-purchase inspection before you even make a deposit. No matter how well the old car sounds and drives, there could be issues that an experienced mechanic may find which may persuade you to look for another one. Some cars have had hard lives, and haven't been maintained properly, and you sure don't want to buy one of those!! This guide is not meant as a "go-ahead" to buy to first one that comes along! Get it checked out FIRST!
UPDATE: I received a message from an ebay member who said I had left out a great car! I have no experience personally with the Mercedes 300D with the 2.5L 5-cylinder myself, BUT, two ebayers who wrote me as well as a dealer friend I talked to (and trust), both said the 2.5L was also a great engine. Just wanted to add that tidbit in.
On another note, the biggest downside to owning any diesel today is the fact that diesel fuel is as much as or more than gasoline! We're being taken advantage of, and there's NO EXCUSE FOR IT! On the other hand, Mercedes diesels are very good candidates for vegetable oil conversions. I have no insight or experience whatsoever in the conversions, but it is a very interesting option if you're willing to invest in it and take time to learn about it! I have had a lot of people email me about their successful veggie-oil conversions on their older MB diesel cars, but I don't know much about these conversions myself.
If you found any usefulness to my information, or at the very least got a few minutes' worth of entertainment out of it, I would really appreciate your vote for my guide below!
I try to keep this page up to date, so check back from time to time and keep track of the mileages on our old MBs! I don't update daily, or on any schedule, but I try to update once a month or so on the mileages, and take another photo of the SD's odometer every few months! Keep an eye out, maybe we'll hit 3/4 million miles on the old SD some day!!!
Guide created: 17/05/07 (updated 23/09/13)