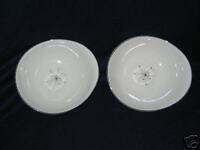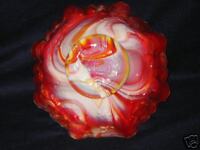 http://stores.ebay.com/APRILS-ATTIC-TREASURES_W0QQcolZ4QQdirZ1QQfsubZ0QQftidZ2QQpZ2QQtZkm
ART DECO VERSUS ART NOUVEAU
Greetings once again from "THE QUEEN OF THE THRIFT STORES",
This little guide is to all in my realm of treasure hunting. Have you ever asked yourself this question....Is it Art Deco or Art Nouveau and what the heck is the difference??? There are several of our customers out there in eBay-Land that DO know the answer to that very question and will be rating YOUR ITEMS based on THEIR knowledge and possibly your misleading (unintentionally, of course!!) headlines. How can you tell the difference in these two different styles?? Simply keep reading!!
ART NOUVEAU!!! This style came first and was in rebellion against (gasp) the Victorian Age. It is hard for me to criticize a peer, but Queen Victoria was a tad uptight and fussy. Flowing wavy lines, sensuous designs, florals, nature, and the beauty of the feminine form constitute the majority of porcelain and pottery that came out of this new period. It filtered over into all other creative forms such as silver, furniture, art glass, vanity items and fine, exquisite jewelry. (Much like my own tiara!!!) Everything flowed like a dancer in form and design. This new style was popular in both Europe and America. Think of a flowery, flowing Tiffany vase, that's Art Noveau. It got its name from a little boutique in Paris, named L'Art Nouveau, which opened its doors in 1895. And no, I wasn't around then, I just like to spend my off-duty royal down-time reading!!
ART DECO!!! Okay, this style is easier to identify, at least to me. Again, this major design movement began in France thanks to a down-to-earth flea market, (major trade show), called, "l'Exposition Internationale des Arts Decoratifs" in 1925. This began a shift mainly in the 1920's-1940's to a period influenced by different styles of form such as Cubism and ancient artifacts from Egypt and South America. Anything "different" came into vogue. Abstract forms, angular designs, zig-zag lines all were characteristics of this movement. Creative use of bold colors and sharp angles took on a new vision. Black and white contrasts were also popular. The Art Deco period was the time of sultry movie stars smoking cigarettes, buildings towering toward the sky, and interest in works of art by mysterious geniuses like Picasso. It was also a big hit with the inventors of plastic and bakelite, who made a fortune on every imaginable item they could produce.
Both of these two design periods continue to grow in popularity with collectors that have all kinds of different interests. So whatever category you place your items for sale in may come under the influence of one or both of these art periods. Well, I have to give a little time to some of my other royal subjects with various needs (i.e. "My children are starving and I should find the Royal Apron!!"). Hope this helps with any basic questions you might have had!!
Guide created: 03/05/06 (updated 28/10/13)