The purpose of this guide is to educate buyers and sellers about so-called "parian dolls". There is some confusion between parian, china and bisque dolls. This guide, it is hoped, will help you figure out which is which.
The term parian comes from a type of fine white marble found on the Greek Island of Paros. The term has come to be applied to the man-made porcelain simulant of the marble.
The UFDC (United Federation of Doll Collectors) defines parian dolls as "made of fine white bisque (unglazed porcelain) without tinting."
What is the difference between parian dolls and those of china or bisque?
Parian
type porcelain is white and has a matte unglazed finish. It is basically polished uncolored bisque.
China
has a white base porcelain and is coated with a shiny glaze.
Bisque
is unglazed but tinted - generally a pink tone for dolls.
I show one bisque with a pink tinted complexion and one tinted black. Compare parian type dolls to chinas in my guide to
china dolls
.
Not parians: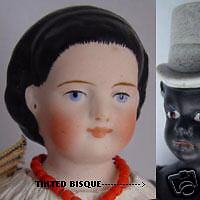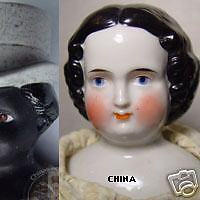 Where were they made and who made them?
The English developed the first parian-ware in the 1840s, and exhibited parian-ware figures at the London International Exhibition in 1851. These figures proved to be very popular, inspiring the Germans to develop their own version of parian porcelain. Soon the many competing German Thuringian companies began making doll heads and limbs in the unglazed white porcelain bisque. They found that they could achieve a higher degree of detail in the modeling than had been possible with the glazed china pieces. Therefore parian dolls can be found with more elaborate hairstyles and in greater variety than the glazed china dolls. There were so many porcelain factories in Thuringia, and the relationships between the companies were so incestuous, that it is often very difficult to tell which company made a specific doll. They copied each other's popular models, and employees drifted back and forth between factories.
Alt, Beck & Gottschalck
may have been the first German company to make a biscuit porcelain, followed by
C. F. Kling & Co.
,
AW. Fr. Kister
,
Conta & Bohme
,
Simon & Halbig
,
Kestner & Co.
,
Hertel, Schwab & Co.
,
Hertwig & Co.
,
and
Dornheim, Koch & Fischer
- among others.
These dolls have been attributed to the following companies: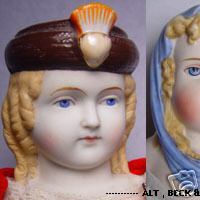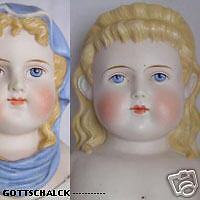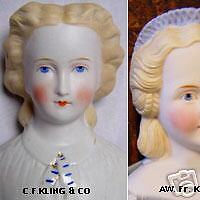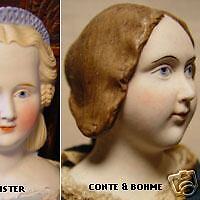 The parian type porcelain medium lent itself to the creation of highly detailed modeling. You can find a wide variety of hairstyles depicted among the dolls. (Note: the doll in the center with the black head band has a very faint pink tint, thus might be considered "parian-like".)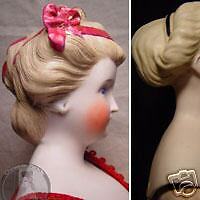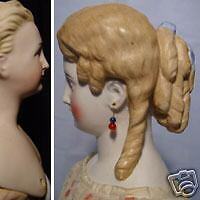 Some other types of variations include pierced ears, swivel necks, glass eyes, decorated shoulder plates, and applied flowers and leaves.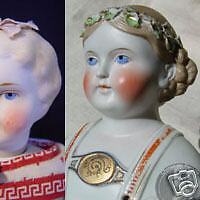 How old is my parian doll?
The earliest parian type dolls seem to date from the early 1860s, and are more likely to come from factories such as Alt, Beck & Gottschalck, Kling, Kister, Conta & Bohme (also spelled Boehme), Simon & Halbig and a few others. The later period parians continued to be made by Simon & Halbig (such as the swivel-necked example above); Kestner made a line of doll house dolls up into the 1930s, and Hertwig made a series of elaborate bonneted parian shoulder heads in the early 1900s, as well as child-like shoulder heads and all-bisque dolls. Note that the Japanese copied many of the Hertwig bonnet heads, complete with the impressed "Germany" mark.
Unfortunately yes. Many of the old German factories closed during the war years and never reopened. The factories were abandoned, along with stacks of molds and unpainted blanks. Many of the old discarded molds were used like bricks in the walls of the buildings. I have seen parian heads that I believe are modern but made from old molds. All-bisques and snow babies are being reproduced too. Some of these are very well done and difficult to tell from the antiques. How do you tell the difference? Examining many antique examples will train your eye. It is also my opinion that the fakes tend to have a whiter porcelain body that is entirely free from any dark specks from the firing process. Sometimes the color of the hair or facial features is slightly different from the colors typical on the antiques.
Where can I find parian dolls?
:o) on eBay of course! There is no specific category for parian dolls on eBay so it is best to search under antique dolls using the key word "parian" for title and text. Here are some
parian dolls
You can always ask your doll related questions on the
eBay Doll Discussion Board
. Just remember - current live auctions cannot be discussed and advertising is not allowed.
Credit for some of the information here should be given to Greg Mountcastle for his studies on parian dolls, to the author of "Identifying Parian Dolls" - Mary Krombholz, and author Lydia Richter's book "Identifying German Parian & Bisque German Dolls". My thanks to them for their research which is still ongoing.
Guide created: 23/08/06 (updated 30/03/14)