How to Purchase Authentic Vintage Louis Vuitton Travel Items
Congratulations on your interest in purchasing an authentic vintage Louis Vuitton travel item. Just because a LV travel item is listed as an authentic vintage item, does not make it an authentic vintage item. There are plenty of fake, replica, look alike vintage Louis Vuitton listed on ebay as 100 percent authentic. Unsuspecting ebayers bid hundreds or even thousands of dollars on a vintage authentic LV that originally cost about fifty dollars or less because it is actually a FAKE. Replicas gained popularity in the late 1970s and 1980s and the replica market continues today. The older replicas are listed on ebay as vintage or rare. This guide will highlight some common vintage LV replica components to avoid. EVERY photo on this page depicts fake Louis Vuitton. I got all these photos right off of ebay listings. I have been a fan of vintage LV items for over 10 years, however I am not affiliated with the company in any way. I am only a collector of these items. I hope you find this guide helpful, and if so please vote yes at the bottom of the page.
The Little Leather Patch Many of the fake vintage travel items have a leather patch on the outside which says Louis Vuitton Paris Made in France on it. Click to the next auction as LV NEVER made it. So remember, exterior patch with LV writing on it equals FAKE! PERIOD!! If the patch has NO writing on it or gold personalized intials on it then it MAY be authentic. A personalized patch may actually increase the likelyhood that the item is authentic.(see the photo of my sac chien dog carrier in the upper right of the page for an example of the authentic vintage oval patch--no writing/ made by the French Co.) Some vintage travel items may have a little metal plate marked Saks Fifth Avenue on them and these are authentic. Here are some photos of the fake patches--run away from these!!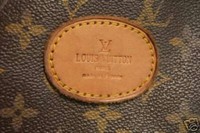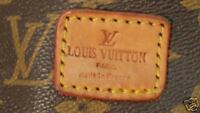 Leather Many of the older vintage fakes have the genuine oxidizing leather handles and trim which may add to the confusion regarding authenticity. Any vintage LV auctions with vinyl handles and trim, rather than leather should be avoided. Some fakes had the leather handles but used vinyl trim which did not oxidize. If there are huge color differences between the trim and handles the item is likely a fake. Some of the vintage LV items made by the French Co under license of Louis Vuitton have a different type of leather which does not oxidize like vachatta but is a darker brown color.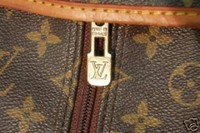 Zippers Pictured above are three examples of vintage FAKE zipper pulls.Authentic zipper pulls do NOT say made in France on them. The authentic LV zipper pulls are NOT a teardrop shape. Authentic zipper pulls are not just plain like the third photo. An authentic vintage Louis Vuitton zipper pull will be marked with an interlocking LV symbol, which is similiar to the first photo minus the made in France. Some vintage zippers MAY be marked Talon or Eclair or C & C insted of LV. These vintage items with this type of zipper pulls were made by the French Co under license of Louis Vuitton in the 1970s and 1980s and are generally authentic. Vintage travel items made by the French Co do not have any date codes erroneously known as serial numbers. In fact many vintage pieces do not have date codes as LV started ading these in the late 1980s early 1990s.
Hardware Louis Vuitton invented the tumbler lock with a unique numbered key to open it. This is supposedly pick proof. The tumbler lock is found on hard LV suitcases and trunks and is made from brass. Some antique LV steamer trunks may have a black metal hardware, these were made in the late 1800s early 1900s. The middle key latch is marked LV with a circle around it. The bottom portion of the key lock is marked Louis Vuitton Made in France...some older cases may only have the key number on it. Older antique pieces may have the intials L.V. on them however these are less common. Generally on the vintage hard suitcases there are three pieces of hardware, two pull down fasteners on each side of the tumbler lock/ key lock. Vintage fake hard cases often pop up on ebay listings as a train case or boite. Here are some photos of fake LV train cases. The case on the left had a buy it now price of $1500.00!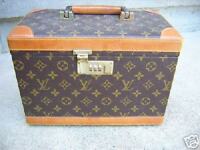 Note that the hardware is all wrong on these examples. On hard cases the hardware should have LV with circle around it and the unique numbers associated with a key which these do not have. A combination lock was not used on any hard cases, however some mid 1990s semi soft suitcases can be set to a combination.
Keepall duffle bag Authentic Keepall bags ARE lined in brown canvas NOT suede or nylon. They do NOT have nylon monogram interiors. Authentic Keepalls do NOT have leather trim along side the zipper nor little feet on the bottom of the bag. Authentic Keepalls do NOT have a LV monogram interior pouch pocket. Authentic LV keepalls look similar to the LV speedy handbag just a lot bigger! (there is leather strips extending past the handles) Here is a photo of a really bad fake. This style was never made by LV, ever. The owner may swear it is authentic but don't be fooled! If you are not sure, ask the seller to send you additional photos of the interior or bottom of bag.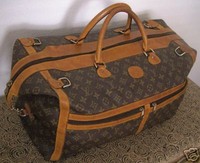 Soft Suitcases The most commonly faked vintage LV suitcase is a soft or semi soft suitcase. They often have the blend of genuine leather handles but vinyl trim. Here is a photo of the most common fake. See how the trim is a lighter color than the darkened leather accents and handle. This suitcase is outlined in vinyl trim which does not change color with age. Also note that this suitcase has the tell-tale patch with writing on the front.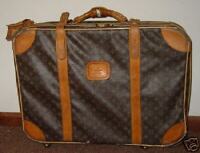 Garment Bags Here is a photo of the most commonly faked LV garment bag. Generally authentic LV garments do not have exterior pockets on them. Some fake garment bags have two long narrow pockets on exterior. If you see these long pockets rest assured it is a fake. Authentic LV garments are lined in brown canvas not nylon or LV monogram print. Recently a seller had a fake LV garment bag listed as a lovely, rare, authentic garment bag with a buy it now price of $2,000! Watch out!

Please do not get ripped off. Some sellers may be genuinely naive about their authentic fake vintage Louis Vuitton listings. Other sellers may see vintage fake LV auction items selling for a lot of money and want to cash in at your expense. They will tell you a tale of how the item was owned by their wealthy aunt who would never buy a fake or that they bought it in Paris on a vacation (maybe true however they purchased it from a street vendor!) or worse that they took it to the LV store and the (19 year old sales clerk) said she thought it was real, blah, blah, blah. Be careful and be educated. There are several other excellent guides on ebay about authentic Louis Vuitton. Please read them as well. Avoid a costly mistake and the embarassment of carrying a fake Louis Vuitton. It has been my goal to help ebayers make good choices when bidding on vintage LV and if this guide has helped you please vote 'yes' below. Good luck in vintage ebayland!!! caklg
Guide created: 13/09/06 (updated 10/11/13)