Buying Mining Hats on eBay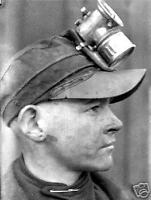 One of the most overlooked areas of mining collectibles is the area concerning the miners headgear. There are several different hats, or caps as they are called, to collect. Starting with the oldest and going forward:
The first caps to appear in mines were basic caps made of canvas with no head protection what so ever but more of a place that an oil wick or carbide lamp could be hung. Most of these caps can be had for quite a bargain since so many were produced. The one thing that typically seperates canvas hats is the manufacture of the lamp clip. Some were completely made of leather, which are worth more especially if there is a manufacturer's name imprinted on it, and there are those with solid metal attachments. See Below: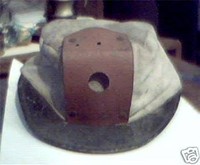 This hat has the leather mounting area.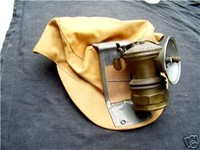 This hat has the metal mounting area.
Most of this type of hat (metal clip) can be purchased here on eBay for around $10 to $20. Be cautious however of some of these hats which look to be brand new. The Safesport company of the Butterfly carbide lamp infamy produced thousands of bright orange and dark green canvas hats in the late 1970's. These do not have a collectors value.
The second type of hat would include the "tortise" or "turtle" type hats. The correct term for these hats is "Cool Caps". These are very interesting and unique hats. The lower portion of the hat, including the brim will be made of leather, with the top "turtle" portion of a hard bakelite-type (perhaps boiled leather) material. These hats have a lace in liner. The lace was origionally light in color but most will be black due to coal dust over many many years of use. These hats should sell between $80 and $120 based on condition. See example below: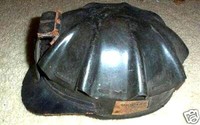 There are other types of hats avalible that combine different styles (i.e. canvas brim with a leather top) and they will typically bring a higher amount due to thier scarcity. (See example below)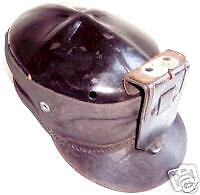 After the "turtle" style hats were the MSA (mine safety appliances) brand skullguards and "low vein" comfo caps. Skullguard hats were typically used in metal mines out west and depending on condition will sell for $10 to $50. See example of Skull Guard below:
For reference on later hats please see my Guide on Low vein miners hats. I hope this has been helpful to you. If it has please click the "yes" button below to let me know.
Guide created: 29/08/06 (updated 21/09/13)