Gutmann print As an important part of art in the early twentieth century, the prints of Bessie Pease Gutmann and her fellow Gutmann and Gutmann contemporaries, Eda Doench and Meta Grimball have been increasingly on the rise in popularity and in price. And with the increase in popularity, there has also been an increase in reprints. Although there are many reprints that are very well done , if you want an original print you must be careful. Many sellers will list their Gutmann print as originals, and some are very well done, even including the print number , when in fact thy are not. Originals will have print number as well as the Gutmann and Gutmann copyright, New York, NY. Many will be stamped with an embossed margin in the paper around the print itself. The title of the print is usually always beneath the picture in block letters, usually there is a copyright date as well..Occasionaly there will be a print without a title, sometimes a print goes by two different titles .The newer prints usually have the title in script, many are on a shiny paper rather than a matte type paper. Many of the prints that were very popular in their heyday have been mass produced today and are readily available at a modest price. There are also limited editions of certain prints being produced today and although they are not the originals, they are certainly well done and are a nice addition to a collection. A serious collector who only wants originals done in the early 1900's, especially during the years 1905-1935 need to be careful to ensure that they get an original. Be careful of sellers that claim that a print is original but do not know a copyright date or print number. Ask Questions of the seller - is there a print number? Is there an original copyright of Gutmann and Gutmann , is the print dated and what is the date and is the frame an original frame? What is the condition of the print ? These original prints, although at times costly, continue to go up in value and are a wonderful addition to any art collection. You can find many originals on ebay and many times at a very good price. The themes of cherubs, babies, children , brides and adults done in lovely pastel shades add warmth and nostalgia to any art collection that will be enjoyed for many years to come.
Popular Prints:
Some of the more popular prints that are readily available to find include Bessie's ever popular prints, The Awakening, and A Little Bit of Heaven. These were mass produced as they were very popular with mothers everywhere. Also not difficult to locate are The Reward and In Disgrace, a pair of prints featuring an adorable girl and her dog. These often came with a poem on the back of the framed Print about sharing her ice cream with her little dog Rusty. Beginning collectors should have no problem in locating these popular prints for their collection. Go to the search bar on your My Ebay page and type in Bessie Gutmann The Awakening or Bessie Gutmann The Reward, or the name the print that you are trying to locate.


Rare Prints:
There are many more prints that are very hard to find and quite rare and are commanding high prices. Years ago, you might have been lucky enough to find one of these prints at a flea market, yard sale, or antique store at a good price. If you are very lucky, you might even be able to do that today. Consider it a great find if you do come across one. Some of her very rare prints include A Sunbeam in a Dark Corner , A Little Pearl , also known as Mermaid Pearl, When Daddy Comes Marching Home, as well as many others. There are many books currently on her artwork to help you recognize her works and learn more about this wonderful artist. You can find these books easily on ebay, the most popular being Bessie Pease Gutmann, Her Life and Works, by Dr. Christie and another called Bessie Pease Gutmann - Over Fifty Years of Published Art by Karen Choppa. Both are wonderful resources and full of valuable information and images. Look for these under Bessie Pease Gutmann book in the search bar on your My ebay page.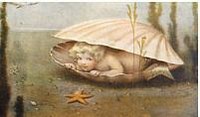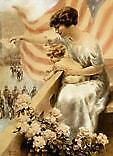 When Daddy Comes Marching Home
Bessie Pease Gutmann illustrated many books, some illustrations were under her maiden name, Bessie Collins Pease. You can find some of her charming illustrations in the following books:
A Childs Garden of Verses By Robert Louis Stevenson, 1905
From Sioux to Susanby Agnes Mclelland, 1905
The Biography of Our Baby by Edmund Vance Cook, 1906
Chronicles of the Little Tot and Told to the Little Tot by Edmund Vance Cooke, 1906
Alices Adventures in Wonderland , Lewis Carrol, 1907
A Diary of a Mouse by Edith Dunham, 1907
Our Baby's Early Days, A Baby Book, 1908
Through the Looking Glass and What Alice Found There, Lewis Carroll, 1909
Childhood Days, 1912 by Hurst Publishing
Many of the Gutmann prints were also published as postcards. You can find these by typing Gutmann Postcard in the search bar. Many collectors search for the prints as well as the postcards. Most of the postcards were published by Reinthal & Newman. Most of them have the title of the work just as the prints do, but not all. Some postcards, as well as some prints, do not always have titles. There is a wide variety of cards, and here too, there have been a few reproductions.
Bessie Pease Gutmann also illustrated magazine covers. Search for covers on magazines such as Pictorial Review and Womens Home Companion. These were done in her earlier years.
Eda Doench and Meta Grimball also worked at the Gutmann & Gutmann Publishing firm and their works are quite similar to those of Bessie Pease Gutmann. You can also find the prints of these artists on ebay as well , but not asd frequently.
For best results in searching for these items on ebay, try searching under Bessie Pease Gutmann , Bessie Collins Pease or various spellings of her last name such as Guttman or Gutman in the search bar. You can also use the search bar by typing in the specific name of a print or book that she illustrated.
I hope this gives you a little insight into what to look for when collecting.
Guide created: 06/04/06 (updated 03/12/13)