This extensive guide is outlined by topics. Before leaving this page, please VOTE below if the guide was helpful
My background: I've been an eBay member for 13 years and also worked for Coach. I am no longer affiliated with Coach and do not represent myself as a Coach "expert", nor do I attempt to authenticate items for eBay members. This guide is a resource for buyers and sellers to determine for themselves if a Coach item is truly authentic. Any attempt to reprint this text is a violation of copyright laws & expressly prohibited.
Note: Items from eBay Sellers posted in the right column are NOT my listings
FAKE COACH ITEMS THAT SOLD ON EBAY: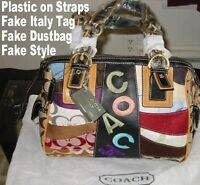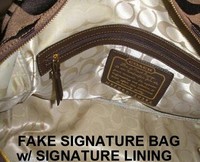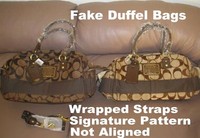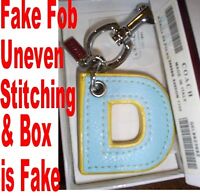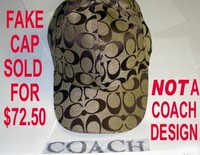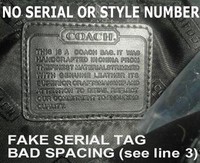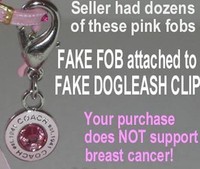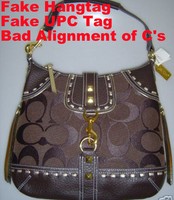 12 Warning signs of fakes
#1 Plastic wrapping over the purse straps, or any part of the bag, wallet or accessory Occasionally, zipper pulls and other Coach hardware might be wrapped with plain packing paper or sponge wrap, but never plastic wrap.
#2 Any tackiness found on the leather from glue residue Imposters often glue their leather seams and trim pieces before stitching them.
#3 Hardware that appears to be polished nickel, but has the weight of plastic Tap the hardware. You can tell the difference between actual metal and metallic plastic by the density.
#4 Scarves that are 100% polyester Coach scarves are primarily cotton, silk, wool or blends that also include rayon, cashmere, angora, metallic threads or nylon.
#5 Enamel hangtags that have raised lettering on the logo Authentic enamel hangtags have a smooth enamel surface, no raised letters.
#6 Signature style handbags that also have signature C pattern linings Coach bags with signature patterns on the outside should have a solid interior lining or a Coach lozenge logo lining, not a C pattern lining. Exceptions to this rule are 2 styles of the signature "wave" patterns that also have a signature C lining. It should be noted that vintage Coach bags did not have linings. Also, a satiny Signature C pattern lining (as shown in the 2nd photo above) is a knockoff and easily detected.
#7 Coach embossed creed with just a style number - no registration number A Coach creed provides info regarding origin and details of the handcrafting. If a creed has a style number, it should also have a registration number and vice versa. Smaller Coach pouches, cosmetic cases, wristlets and accessories don't generally have a creed and for the few pouch styles that do, the creed does not contain a style or registration #
#8 Wording on the Coach creed that is jumbled or misspelled Each line of an authentic creed has evenly spaced words that contain no spelling errors.
#9 Coach keyfobs that are sold in boxes with a barcode and style name Authentic Coach fobs aren't sold in custom branded boxes with UPC numbers and style names. Authentic fobs are paired with generic Coach boxes.
#10 Sellers offering multiple quantities within the same listing, or posting the same style Coach item over multiple listings These sellers should cause you to scrutinize their past sales. Ask more questions to verify authenticity.
#11 Auction listings that include a handbag with matching accessory, particularly if the seller has several auctions with matching sets Some counterfeit suppliers promote free matching accessories with the purchase of their Coach bags (ie. totes & satchels are paired with wristlets or wallets). Imitation sets are plentiful at eBay.
#12 Embossed hangtag or hardware with a crooked or partially stamped Coach logo Authentic Coach embossed logos are precisely aligned.
Items that were never inspired by Coach
Many products being represented as Coach brand were never designed or inspired by Coach. Some examples are Hello Kitty and Winnie the Pooh keychains, plus fobs with elves or robots that are designed in Asia. Coach has created fobs with animals (pigs, monkeys, etc), but has not collaborated with Sanrio, Disney or Mattel to produce keyfobs. On a further note, handmade jewelry with claims of having authentic Coach charms are not authentic, nor are sliding Italian bracelet charms.
Some Coach styles are replicated more than others, such as the Carly, Legacy and Bleecker styles, however every Coach style has been counterfeited. Some styles being touted as "very rare" are just very fake! View the first photo above. Patchwork handbags are replicated with bad color combos and patterns, unlike the original patterns. Beware of limited edition styles unless you are very familiar with the style.
Quality of the hardware
Coach hardware is primarily composed of nickel, brass or gunmetal. Only a Coach lozenge logo should be stamped on buckles, pinch clips and charms. You'll find the embossed logo on the hardware of wallets, belts, key fobs, some glove styles and newer handbags, with the exception of the Legacy line which takes its inspiration from older classic styles. The buckles and pinch clips of early classic Coach handbags and belts were not embossed with COACH.
The snaps on most styles are stamped COACH on the undersides. Magnetic snaps are stamped COMAG or ROMAG with a Pat Pend No. Also, some grommets are stamped COACH. Check Coach zipper mechanisms for the letters YKK inscribed. This high quality zipper is used in the majority of Coach products (but not all). However, in 2006, fake YKK zippers began flooding the market with inferior metal stamped with YKK, so be aware that fakes may have YKK zippers. Hardware should never be stamped "Solid Brass" or "Stainless Steel" Study authentic handbags or navigate the Coach website to become familiar with authentic hardware. For example, the sliding latch button of fake leash clips may be tiny compared to the prominent latch of an authentic clip.
Quality of the material
Coach selects only the top ten percent of leathers and treats its fabrics, leathers and suede for stain and water resistance. Coach Fabric Cleaner (or Ivory Liquid Soap) will often remove smudges, grime or the occasional oily spot on the jacquard fabric. Coach suede kits are helpful in removing fresh soil. Without the treated fabrics and leathers, removing soil is much more difficult and fake bags are often heavily soiled or tend to rip easily - another reason authentic Coach stands apart from knockoffs. If the fabric feels very stiff, or conversely, if it appears less durable and tends to slouch rather than hold its shape, these may be indicators of a counterfeit bag. Also watch for fake suede that is comprised of fabric with a sueded effect, yet no actual suede!
Alignment of the Signature pattern
Most Coach signature patterns are aligned in a precise manner to ensure that the opposing Signature C's will align dead center of the handbag and the remaining C's should continue symmetrically to the right and left edges of the handbag. Meticulous craftsmen sew the patterns in this manner and discard the excess fabric that can't be utilized. This may be too costly a venture for cheaper knockoffs to reproduce symmetrical patterns and their patterns may be misaligned. However, today's technology produces replicas that are more precise in their alignment and not easily detected. Therefore, it is important to consider several factors noted in this guide before determining if an item is a knockoff. When studying the alignment, keep in mind that "C" patterns are aligned horizontally, never vertically. Note: Two authentic Coach styles (8K47, 8K48) actually have a diagonal alignment of the C's.
The "mini signature" pattern is aligned so that edges of the pattern look identical from left to right side of your bag and along the seams. The Optic C pattern is tricky because it is lined up identical from front to back - not from left to right. The same set of C's are a mirror image on the front and back of the bag. Double flap pockets might not mirror each other. Also, seams should align vertically and horizontally, but seams stitched diagonally do not align. Smaller authentic Coach items do not follow the same rules and will not be precisely aligned, so don't be concerned if a coin case, mini skinny wallet, eyewear case or pair of signature shoes have C's that are "off center".
The stitching and workmanship
The most common place for error is in the stitching. Stitching should be dead on straight! The stitching of authentic Coach is sewn with careful calibration, no sloppy overstitching, no inconsistency in the spacing between stitches, and no areas that are even slightly crooked. Imitations never get all the sewing perfect, especially if it is double stitched. You might detect wider spacing in some areas. Fabrics and leathers should be cut evenly. Examine an item completely and check areas where seams are sewn down. Request more photos to view stitching up close.
Receipts and attached price tags
I once bought a fake Coach bag because I saw an attached UPC tag and assumed it was authentic. Imposters replicate the UPC tags, paperwork, logos, MSRPs and other details that look authentic. Just because a price tag is attached, do not assume it is authentic. This also applies to listings that provide the registration card, care card, dustbag, gift box and receipts. I try to provide these in my auctions when available, but tags are not proof that an item is authentic. Ironically, many sellers promote items that are NWT (new with tags) but the tags, as well as receipts, are commonly replicated. To confirm authenticity, request a gift receipt that has a transaction # that can be verified, or obtain the original receipt. Both types of receipts are watermarked on the back with info printed both horizontally and vertically.
Hangtags come in all shapes and sizes
Coach produces hangtags in a variety of materials including leathers, suede, patent, metals and enamel. The majority of embossed leather tags are raised (puffy), but some are flat with no stitching. Enamel tags are the easiest to authenticate because they are baked to a smooth finish, unlike replicas that have raised lettering on the enamel. Two identical Coach styles may have different hangtags because tags produced in different seasons will vary, or it could be a replacement tag issued by Coach or a tag transferred from another bag. Thus, fake bags can have authentic hangtags and authentic bags can have fake hangtags.
Interpreting styles and registration numbers
Coach employees can lookup a style # from store computers and provide a brief description. Employees are trained to detect authentic Coach, but if a store mgr. cannot confirm the authenticity of an item valued over $125, you may be directed to complete some forms and ship it directly to Coach's Counterfeit dept in NY to receive a letter of authentication.
Registration numbers found on Coach creeds, usually contain 3-4 characters (number/letter combo) followed by the style number that is 3-6 characters long. Example: registration number F06S 8A16 is assigned to a large suede hobo bag that was made for the factory stores. The first group of numbers contains the year that the item was made. The "06" in F06S represents the year 2006. The second group of numbers is the style number, 8A16. The attached factory store tag is stamped with style FS8A16. A style number that is prefaced with "FS" denotes a Factory Style.
The origin of the item
The origin is based upon where the item is assembled, not where the materials originated. Thus, if Italian leathers are utilized and the item is assembled in Italy, a creed will be stamped as handcrafted in Italy. If the same Italian leathers are sent to China to be assembled, the handbag will now be stamped as Handcrafted in China. At the end of 2009, Coach reported that it kept sourcing & product development offices in China, South Korea and India that work closely with manufacturers. Products are manufactured in many countries including China, Italy, United States, Hong Kong, India, Thailand, Vietnam, Turkey, Philippines, Ecuador, Malaysia, Mauritius, Peru, Spain and Taiwan. Although China is the largest source for authentic Coach handbags, China also accounts for a large portion of counterfeits.
Coach Factory Store merchandise
Contrary to what some people claim, Coach Factory Store merchandise is not inferior quality compared to full priced Coach merchandise. Factory store merchandise is priced lower than Coach retail stores and is designed to attract shoppers that are looking for a bargain on Coach quality products. Most factory store merchandise was specifically created for the factory stores by reintroducing the prior year's retail version of styles with a subtle revision such as modified stitching patterns, a different hangtag or a larger embossed logo. Another source for factory merchandise is derived from the "end of season" inventory pulled from full priced Coach stores and redistributed to Coach Factory Stores.
Factory items that are received from full priced stores are branded in a variety of ways depending on whether its a handbag, accessory, or article of clothing. One method is to stamp or "brand" the items with a bullseye (a circle enclosed inside another circle). This symbol is embossed into the Coach leather creed, an inner flap of a wallet, or underside of a belt. Clothing is branded before being placed in the factory stores and that branding may include a snipped care label. Factory merchandise can only be returned to Coach factory stores and the branding is one way to prevent its return to a full priced store Regardless of where you purchase your authentic Coach item, a full priced Coach store, a factory outlet store or authorized department store, the Coach quality is guaranteed.
Coach repairs
Whether or not you register your Coach item, you have a 7 year period considered the Natural Life of the Product. During that time, Coach will work to ensure your satisfaction by offering repair or replacement services. This is an important reason for buying authentic Coach. If the Coach item needs repair, you pay a fee of just $20 to cover handling and shipping to their facility in Jacksonville, FL where the product is serviced. Many issues can be resolved such as stitching that comes loose or a broken turnlock. This service is offered for merchandise originating from Coach retail stores, factory stores & authorized department stores. A creed stamped with an X originated from a discount store such as TJ Maxx or Marshalls and might not be accepted for repairs.
Many reviewers state that there's no such thing as Coach "seconds" and that is not 100% accurate. I am going on record to say that Coach does sell "Final Sale" items that have become defective or are missing parts after they reach the store shelves, as well as products with minor blemishes that slipped past quality control. I bought a few Final Sale items from Coach stores, such as a checkbook wallet without a checkbook holder and a handbag with a slight blemish on the tanned leather. The items are usually stamped with "FS" on the creed and Coach employees inform you at the time of purchase if it is a final sale. Items become a final sale because missing parts can't be replaced or the required repairs are not covered by the Coach "warranty". A discount is applied to the final sale price, making it cost prohibitive to honor any future claims for repairs. Bottom line: If it is authentic Coach and not stamped with an X or FS, count back 7 years from the year it was produced and that is the period that repairs are covered .
Regarding the eBay seller
How long have they been selling? This can be checked under the "Feedback left as a Seller". I scrutinize all sellers, but am more cautious with less experienced sellers with zero or low feedback for selling. They may not be threatened if you post negative feedback because they have nothing to lose. Then again, don't assume 100% feedback equates to an honest seller. The majority of photos posted at the top of this guide were derived from sellers with 100% feedback. Feedback should be considered on a case-by-case basis. Use your best judgment to determine whether negative feedback was justified. Try eBay's advanced search of a seller's Completed Listings to see what Coach items were sold in the past 60 days and look for fakes.
Be wary of sellers that keep their auctions private, claiming to protect the bidders' identity. Bidders' IDs are already protected by eBay and private auctions simply allow sellers to hide the links to their past auctions. If buyers prefer to keep their purchases private, preventing others from viewing the item for which they are posting feedback, then purchasing from private auctions make sense. However, unless I am purchasing a personal item or a very high-end item that I prefer not to advertise, there's no good reason to choose a private auction. If I can't view a seller's past sales listings, I can't determine if they sold the same style bag 50 times over the past month, or view items that received negative feedback to decide if counterfeits were sold in the past. That is why, in my opinion, most private auctions are designed to protect the seller and not the buyer.
Finally, use caution with unsuspecting sellers that do not realize that they've purchased knockoffs from other eBay members and resell them along with their authentic items. This accounted for my purchase of 3 fake Coach items at eBay. I assumed that something was authentic because the seller had ten other authentic items for sale. As an eBay seller, I guarantee authenticity of all of my items (Items by Fionaflyby)
Trusted sources for authentic Coach
An authentic Coach item for sale on eBay should have originated from an authorized distributor or someone else that purchased from an authorized distributor. With the exception of some select vendors that acquire wholesale lots of store returns, clearance or damaged goods from stores like Marshalls or TJ Maxx. Legitimate wholesale lots are commonly comprised of less popular styles that become overstock and past season inventory that is sold to discount retailers. This inventory might show signs of wear from being stored on shelves and bins, or due to mishandling by customers.
Authorized distributors of Coach products are: Coach retail and resort stores, Coach Factory Stores and authorized department stores such as Macy's and Nordstrom. Some duty free shops and authorized boutiques are additional sources and coach.com is a direct source. The quality is no different from any of these authorized distributors.
Your purchase from an unauthorized distributor
The only legitimate wholesale inventory of new undamaged current Coach styles is supplied to authorized distributors. If an eBay member with wholesale quantities of new Coach products claims that their supplier is an authorized distributor, yet the supplier isn't an authorized distributor mentioned above or they won't divulge their supplier, be wary. Hair and nail salons are not authorized Coach distributors, nor are people hosting purse parties, curbside vendors or the guy shipping Coach products from a supplier overseas. That merchandise is not authentic and the sales activity should be reported because it's illegal. When you see terms like "replica" or "designer inspired", it equates to counterfeit. I refrain from naming the notorious websites selling replicas because I do not want to encourage more purchases of these imitations that will find their way to eBay.
If a seller claims that all their items originated from a factory store, consider the fact that the factory stores limit customer purchases to a quantity of 3 for any given style. If a seller has more than 3 items in a specific style, that would have required multiple visits to the outlet and less likely that they were able to purchase a dozen or more of that particular style. Consequently, I scrutinize the sellers with consistently large inventories of factory merchandise by carefully studying their past sales and feedback for warning signs.
The crime of counterfeiting
You're probably aware that the sale of counterfeit merchandise is a crime. Sales of $1000 or more of counterfeit merchandise is a felony. You might be wondering, what's all the fuss about? No real harm? Aside from the financial loss to the brands being replicated, (approx 500 billion dollars), counterfeiting also accounts for an estimated loss of 750,000 jobs in the US. Moreover, profits from this activity are funding other crimes that range from abusive child labor to drug trafficking and terrorist activities. In fact, an FBI Task Force determined that the sale of counterfeit merchandise has helped to finance terrorism, including attacks on the World Trade Center. Interpol officials testified that product counterfeiting is a major source of funding for Al Queda, Hezbollah and North African radical fundamentalists. Ebay attempts to reduce counterfeit sales, but is not equipped to police the activity. Counterfeits have spread across the designer brands, toys, software, car parts, etc. When you consider that eBay has 200 million listings worldwide with 6.6 million new listings being added daily, you realize that counterfeits will continue to thrive at eBay.
Numerous industries are plagued by counterfeits in the global marketplace. Brands that continually combat replicas are too numerous to list, but here's a sampling: Abercrombie & Fitch, AC Delco, Adidas, Adobe, AMD, Anya Hindmarch, Apple, Armani, Autodesk, Baby Phat, Baccarat, Balenciaga, Bally, BCBG, Bebe, BMW, Bosch, BOSE, Boucheron, Bratz, Brighton, Burberry, Bvlgari, Callaway, Calvin Klein, Canon, Cartier, Chanel, Chloe, Christian Dior, Citizens of Humanity, Coach, Columbia Records, David Yurman, Diesel, Disney, DKNY, Dolce & Gabanna, Dooney & Bourke, DuPont, Duracell, Ed Hardy, Enyce, Epson, Escada, Eveready, Evisu, Fendi, Fila, Fisher Price, Frankie B., Frontline, Gas, General Motors, Gillette, Givenchy, Gucci, Guerlain, Guess, Harley Davidson, Hermes, Hewlett Packard (HP), Honda, Hugo Boss, iPod, Isabella Fiore, Jansport, Jean Paul Gaultier, Jimmy Choo, John Deere, Juicy Couture, Kate Spade, Kenneth Cole, Kenzo, Kipling, Kingston, Kodak, Kooba, Lacoste, L.A.M.B., Lego, Levi, Liz Claiborne, L'Oreal, Louis Vuitton, MAC, Macromedia, Marc Jacobs, Mattel, Mercedes, Microsoft, Michael Kors, Miu Miu, Motorola, Movado, Nautica, NBA, NEC, New Balance, NFL, Nike, Nina Ricci, Nintendo, Nokia, North Face, Norton Utilities, Oakley, Oki Data, Panasonic, Pioneer, Phat Farm, Pirelli, Prada, Proctor & Gamble, Puma, Rado, Ralph Lauren, Ray-Ban, Raymond Weil, Reebok, Roberto Cavalli, Rocawear, Rock & Republic, Rolex, Ryobi, Salavatore Ferragamo, SanDisk, Sanyo, Seven for All Mankind, SONY, Speedo, Symantec, Tag Heuer, Tiffany, Timberland, Titleist, Tommy Bahama, Tommy Hilfiger, Toshiba, Toyota, True Religion, Ugg, Underwriters Laboratories, Ungaro, Valentino, Versace, Warner Bros, Weiss, Yamaha, YSL and Yu-Gi-Oh!
eBay only permits sales of authentic Coach
If someone says that they received the item as a gift and don't know whether it is authentic, they should have authenticated it prior to listing it and not risk selling something illegally! If you see counterfeits at eBay, please scroll to the top right side of the listing and click the link to "Report Item". To contact Coach directly to report counterfeit items, call toll free 1-800-396-1807 or email: counterfeits @ coach.com
If you need help to authenticate a Coach product, I hope that this guide will be an aid, but unfortunately I am unable to respond to your emails requesting further assistance. My best bit of advice: If you purchased a knockoff, ask the seller for a refund. If the seller isn't agreeable, file a claim via eBay's customer service (the "eBay Buyer Protection"). If your item qualifies for eBay's Buyer Protection, the listing will display a badge with an "e" in the center. Claims may be made up to 45 days of the payment date. The service has been improved and as the buyer, the odds are in your favor to recover on your investment, both purchase price and initial shipping fees.
>> If you liked this guide, please click YES <<
Guide created: 28/05/07 (updated 06/12/13)