This guide is full of tips on how to sell, when to sell, and tips on attracting buyers.



THE BEST TIME TO SELL USED PRODUCT:
Sell any USED items AFTER THE HOLIDAY SEASON. I have noticed more buying and bidding competition during Mid January through Mid April. It is best to STOCK UP on product during the summer time, around June and July when used items seem to be less of buyers interest.

You may find it unusual to have items sell after Christmas. My hypothesis on this is that no one wants to/ or has the time to buy used items during the Holiday season.


WORST TIME TO SELL USED PRODUCT:
If you sell around the "Wholesale" season, June-July, you my as well throw your money out the window. This is the time to stock up, NOT to sell. I have had experiences of selling things in the summer and getting 1/3 the price of when selling during the good season.


BEST TIME TO SELL NEW PRODUCT:
Really anytime during Christmas or any holiday seasons. Basically, the same time any other new product sells for a sufficient price.
________________________________________________________________________________
OTHER TIPS ON SELLING:
This may vary depending on what you sell, like seasonal clothing, or any sort of electronic that may really depend on the TIME OF YEAR to get a good price. I have been selling Model RR products here on eBay for about four years, and these seem to be the results.

When you sell in auctions on eBay, you never know what you will get. Like real auctions, there are bad days, and good days.

Be sure to include a great understandable and simple description. Do not make your payment, shipping details too strict or too long. Having strict payment and shipping details tends to scare buyers away. Include some decorative fonts colors etc. but do not put in too much "gloss".


Be sure to include a good, clear picture.

This is a pair of good and bad pictures for eBay auctions, using a clock and a train.

Bad images: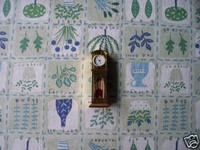 Good images:

Have a title that includes a lot of "search engine keywords" on the item to be sure that it pops up in someones search results as often as possible.


Put the auction in the right category, any items that you think will sell for an excess of $50.00, you should list under a second category. Do not make your starting price too high, or too low. If it is too high, it may not sell. Too low and it may sell at a disappointingly low price.


Accept PayPal as an electronic payment method.


Make your shipping price reasonable, enough to cover the shipping charge, and any sort of supplies like the packing, box etc. I myself hate it when people sell things at really low prices, but have a gigantic shipping charge thinking that you won't know the difference.


If you are going to use an expedited shipping service, like Priority Mail, or Insured UPS, Advertise it in your auction because this tends to also attract buyers.


Follow these simple steps, and you should be on the right track to selling here on eBay.
Hope this guide helps.


Guide created: 02/11/08 (updated 19/08/13)