Please take a moment at the conclusion of this guide to vote. I enjoy creating these guides to assist my fellow eBayers, and voting lets me know that they are well-received and encourages publication of future guides.
Becoming a Lilly Pulitzer collector is fun and easy. Once you've acquired one piece and seen the great dressmaker workmanship and details, you'll want to have many others. Some collectors go after certain prints or color combinations because of their themes or their rarity or certain styles because of their popularity. Some collectors prefer vintage Lilly items which date from the late nineteen sixties to the mid nineteen eighties. Lilly closed her business for several years, not reopening it until 1993.

Starting around 1997, each Lilly print, solid color and style has a name. The official pattern names begin with the color and then the pattern name, except for the muli patch prints. However, very few names are known prior to the 2000 collection. Whatever you select, you will acquire a beautiful garment which you will enjoy. Lilly Pulitzer clothes can actually appreciate in value if you pick carefully! For example, the Margarita Shrimp Cocktail print from the stellar 2001 collection frequently demands a premium price, well above the current retail price for a new with tag (NWT) garment.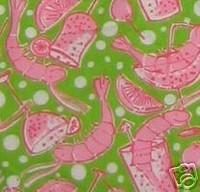 There are several patterns which have obtained an almost cult status with collectors. I found out the hard way. When I first started selling on ebay, I inadvertently listed a skirt in the Sunset Pink Mixed Drinks print with a buy it now price.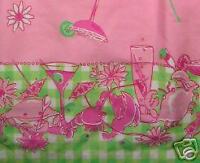 While I was happy with the transaction, I got several irate emails from unhappy collectors who missed the opportunity to bid on the item!

For many years, the multi patch fabrics have been a collector's favorite. Multi patch fabrics are either printed on cotton poplin
or are actual pieces of fabric sewn together, such as Nantucket Patch or Resort Patch, which is shown here.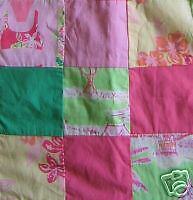 . Multipatches combine samples of different patterns from the same season in interesting ways. They seem to be harder to find than other prints and hence command a higher price. I have written two separate guides to help the buyer identify multipatch fabrics which were made prior to 2004. Multi patch fabrics guide.
A collector can go after themes. Lilly fabrics cover many different subjects including:
Animals - Lilly loves monkeys, giraffes, and all types of cats, among others
Bird
Sea creatures - smiling turtles, lobsters and crabs abound and don't forget all kinds of fanciful fish.
Sea shells
Turtles
Alligators
Frogs
Insects - in particular butterflies, bees, snails and ladybugs - all cute as a bug.
Embroidery
Floral - Don't forget that Lilly's logo is the Palm Tree! Daisy patterns and Lillies abound. Hawaiian flowers are popular.
Fruits and vegetables
Butterflys
Streetscapes, landscapes and maps - Lilly's World is a prized pattern
Golf
Miscellaneous including paisleys ( Croissant and Cheery-O), tiled, eyelet
Some collectors covet certain styles. Three favorites types of dresses are the Krista, the Classic Shift and the halter dress. The Krista generally has piping or ric rac trim around the neck and armholes.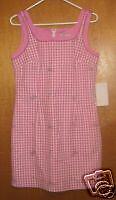 Its princess seams are very flattering. Since Lilly stopped manufacturing the Krista for a number of years, one which is new with tags is valuable. This style was reintroduced in the 2006 collection after several years' hiatus. The Classic shift is the dress that made Lilly famous.
It has two patch pockets and slits topped with bows on each side. As with most all of Lilly's dresses, these two have wonderful details including a full lining, Lilly hem lace and little straps to hold your bra in place. Lilly has made several halter styles over the years.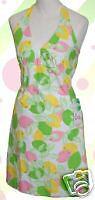 They are always very popular. Most have built in shelf bras, so they are very comfortable to wear.
Lilly is known for her pink and green color combinations but she other wonderful color combinations as well. The other wonderful thing about most Lilly prints is that the word "Lilly" is hidden in the pattern. Sometimes it stands out but other times it is a challenge to find. Go for something you love and you will be the happiest of collectors.
Thank you for reading my guide. If it has been helpful to you, please click on the "Yes" button below. If you are interested in how to spot a fake Lilly Pulitzer dress, please read HERE.
lilly_pulitzer_boutique
Guide created: 24/04/06 (updated 20/11/13)