Several of my customers have asked if there's really any difference between the versions of the AccuSharp Sharpeners. "Can't any of them be used to sharpen anything you want"? The answer is No! Each one of the AccuSharp family of sharpeners has its own unique purpose and is designed with its own unique configurations & angles of blades. All the AccuSharp Sharpeners have diamond-honed tungsten carbide blades, can be cleaned with soap and water or tossed in the dishwasher. With the exception of the SturdyMount, which fastens securely to a sturdy surface, all models have full-length finger guards and can be used either right or left-handed. That's where the similarity ends.
Click to links for each sharpener.
The AccuSharp Knife & Tool Sharpener is specifically designed to sharpen any blade that is beveled on both sides, such as most knives (even serrated ones), axes, machetes, cleavers, etc.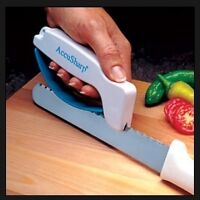 The Accusharp GardenSharp sharpens blades beveled only on one side, such as lawnmower blades, pruning shears, limb loppers, hoes, shovels, scythes, etc.
The AccuSharp ShearSharp is designed to sharpen general purpose scissors, hedge clippers, tin snips, etc. For a detailed explanation of how it works please see detailed manufacturer's instructions and diagrams. Use your common sense with all hand sharpeners. If you have an extremely expensive pair of dressmaking shears that you keep in a lined box when not in use, you'll probably want to have them sharpened by a very experienced professional craftsman. For everything else in this category, the ShearSharp is your tool of choice.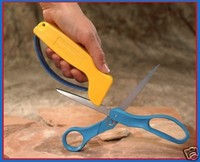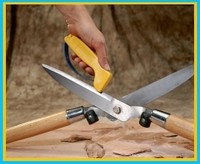 The SturdyMount is the odd one out when it comes to looks, but internally it has the same quality diamond-honed tungsten carbide sharpening blades. It's made to mount to kitchen counters, filet boards, work benches, etc. It sharpenes the same items as the Knife & Tool Sharpener, but is most convenient for sharpening knives when you want to have one hand free holding something else.
You can find these Accusharp sharpeners in my eBay Store, AlphaBargains, where you also find sharpener combo packs that make it easy and inexpensive to get the right sharpener for your kitchen, crafts box, garage, workshop, tool box or tackle box.
It's been said that almost anything is easy if you have the right tool. The AccuSharp family of sharpeners provides the right sharpening tool for virtually all normal sharpening tasks.
Guide created: 12/11/08 (updated 27/10/13)