HOW TO USE RG-6 TWIST-ON CONNECTORS
We sell various satellite and cable TV items and sometimes we have questions on how to use our products. This guide is to help save our customers time and money by letting them do it themselves.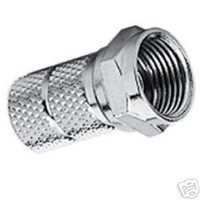 Cut the outer coating properly (SEE DETAILED INSTRUCTIONS )
Let copper center be the longer than coating and foil
Twist Connector in place.

Detailed Instructions and Demonstration Pics
Guide created: 07/03/08 (updated 19/08/13)