Know Your Vintage Linens!
I was inspired to write this guide when I saw four lovely embroidered Tea towels listed as Napkins on ebay. It is worthwhile to do some research before you list your items. Hand-embroidered Tea Towels are very distinct from Napkins.
When listing linens the following should be considered:
Item Name- (example: Tea Towel)
Size and Shape- (example: 6 x 8" rectangle)
Color- (example: White with Pink Embroidery)
Fiber Content- (example: 100% cotton, linen, blend)
Type of Decoration- (example: Embroidered, Cutwork, Drawnwork, Tatting)
Condition- (example: Mint, Worn, Rust spots, Yellowing)
A Basic Guide To Item Names
Napkins: from 6" to 20" square, usually adorned in one corner
Luncheon Napkins: from 3 x 5" rect. to 5" sq. usually come in sets of 4 with small tablecloth
Cocktail Napkins: from 3 x 5" to 4 x 6" rect. often with an all over printed design and sets of 6 or more
Handkerchiefs: square with all over printed design sometimes edged in lace or embroidered in corners, 12- 14" sq. Rarer are round hankies.
Tea Towels: approx. 13 x 20" rect. with embroidery, cutwork or lace trim at bottom edge.
Runners: also called dresser scarves, are rect. and vary in size. They can be lace, cutwork and embroidered.
Doilies: round or oval shaped pieces, from 4 to 14" usually embroidered, cutwork or edged with lace
Centerpieces: round or square, about 20" just a larger doily but often with more elaborate embroidery, cutwork or lace.
Tablecloths: come in all sizes and shapes, from 28" sq and rounds to 80 x 100" rect. and ovals. Any large piece that tops a table. Oftem embroiderd, cutwork, drawnwork, cross-stitched crocheted lace, etc.
Piano Scarves: large pieces edged on three or four sides now often used to make valances or bedskirts. About 26 x 84" with cutwork, embroidery and lace edging.
Pillow Cases: usually come in pairs, fit standard size pillows. Embroidery or lace edge on one end and on top.
Pillow Covers: varying sizes and shapes. Usually the design is all over. Embroidery kits for pillow covers were very popular in the mid-1900's.
Pillow: Pillow cover with insert included.
Bedcover: very large piece with all over embroidery or cutwork. 90 x 110" common.
Duvet Cover: bedcover sewn into a giant pillow case for down comforter.
Embroidered Sheet: Bed Sheets with decoration at top edge. Embroidery or lace edging most common.
General Types of Decoration
Embroidery: white or colored stitching in floral or other natural and abstract designs
Lace edging: attached to the edge of fabric, machine or handmade
Tatting: edging made with a shuttle, simple circular design
Cutwork: embroidered designs with fabric cut away into open spaces
Drawnwork: threads are pulled out of weave to make design
Applique: fabric or lace designs sewn on top of piece
Lace
There are two basic types of lace: needlepoint and bobbin. Bobbin lace, also called pillow lace was made on a pillow and woven with bobbins. Needlepoint lace was made with just needle and thread.
Types of Bobbin lace: Binche, Bruges,Brussels, Chantilly, Cluny, Duchesse, Filet, Point de Paris, Torchon, Valenciennes
Types of Needlepoint lace: Alencon, Rose Point, Battenburg, Hardanger
Lace can also be crocheted or knitted.
Fiber Content
Most vintange linens are made from natural fiber fabrics. Linen is most common due to its rapid moisture absorption and durability.
Cotton: made from cotton bolls
Muslin: generic term for cotton
Linen: made from flax plant
Silk: woven with threads made by silkworms
Velvet: short thick nap made of silk
Velveteen: like velvet but made from cotton
Damask: originated in Damascus, large designs woven into fabric, common in tableware
Thread Count: the number of warp ends and filling picks per in. in a woven cloth. The higher the number, the finer the cloth.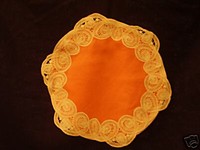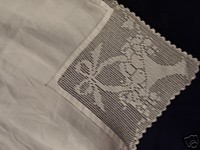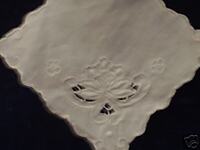 Battenburg Crocheted Lace Cutwork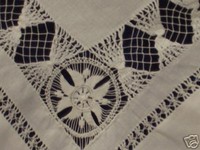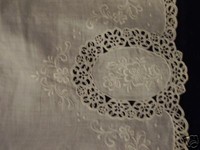 Drawnwork Embroidery with Bobbin Lace Embroidery with Needlepoint Lace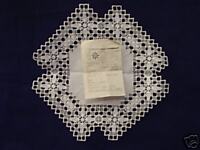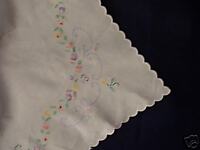 Hardanger Cross-stitch Needlepoint Lace
Sources: Collecting Antique Linens Lace Needlework by Frances Johnson
A Dictionary of Textile Terms Dan River Inc.

Guide created: 26/09/06 (updated 15/04/13)