~A Labor of Love Now in its' Last Edition: Guide to How to Distinguish a Genuine Hermes Tie with A Bit of History and Some Helpful and Insightful Questions & Answers at the Very End~
The scope of this guide is to help enable both buyers and sellers to distinguish the difference between a genuine Hermes tie and the multitude of fakes. It is a relatively straight-forward task despite the many things to note. As the different types of ties have somewhat different parameters we'll focus on the best known of all, the Hermes Alpha-Numeric Twill tie. If you have questions about the Heavy Silk Lourde, Heavy Twill, Scarf, Faconnee, Knit or Leather ties please don't hesitate to ask.
The most coveted ties in the world are produced by the French House of Hermes (pronounced "Air-Mez"). They embody refinement, masterful design, timeless style and a true sense of tradition. Hermes opened shop in 1837 and were known for their fine saddles and halters; by the 1880's they moved into high-end items for the elite of Europe. Hermes today is renowned world-wide. Hermes celebrated the 100th anniversary of the company, and made their entrance into the American market, by way of Neiman Marcus New York. Despite hostile take-over attempts Hermes (google LVMH) continues to remain a family-owned company. Only 20 % of it's shares are traded on the Paris Bourse. Annual sales are almost at $2 billion. The ethic of meticulous craftsmanship learned in saddle-making is consistent throughout the company for every product they make. Hermes sales consist of 30 % leather goods, 15 % clothes, 12 % scarves and 15% ties. Hermes sells well over a million neckties a year, bringing in 10 percent of the French company's revenue.

Far and away, the greatest number of Hermes ties listed on eBay, and sold around the world, are the number and letter-coded lighter twill designs (although the company continues to add new tie lines to the collection). Brand New regular collection Hermes Ties command $195.00 and the scarf ties almost $100 more. These come primarily in two different styles: the classic geometric patterns and the whimsical, animal inspired, designs. Regardless of design, all coded twill Hermes ties are printed in a multi-layered, many-colored process (while often imperceptible, Hermes does not recycle colors but blends and creates new colors for every new design). There are about 30 silk twill designs in each collection, approximately 25 new designs, plus 5 re-editions in new cuts and colorations. The Heavy Silk collection features 15 new designs each season.
Step-by-Step Guide:
Rule No. 1: When buying on eBay…know your seller. The longer the history and the better the feedback the greater the guarantee of authenticity! Bid with confidence as no established seller will sully their reputation by intentionally listing a fake.
Print: Silk twill ties are printed in exactly the same manner as a scarf with an average of 7 frames or colors per piece.
Fold: Hermes twill ties have a characteristic "dovetail" fold in the back while most fakes are simply tacked down and sewn together. Flip the tie over and look at the seam, the right side of the seam fits into a groove formed by the fold on the left side of the seam. Unless the tie has been re-lined or altered, this should always be present.

Stitch: Under this "dovetail" fold on the back of the wide end of the tie is a small thread loop approximately 1/2" to 1" long jutting through the silk lining. Hermes is the only tie maker in the world to utilize single thread stitch from one end of the tie to the other (this thread runs the entire length of the tie, and back, and can also be found looped under the narrow end). The tie is then stitched with a single thread with no knotting. This single stitch tucks under the rear folds of the tie and can be used to gently snug up the seams should they loosen over time. Fakes commonly utilize a less elegant heavy stitch closure to tack down the edges on the back of the tie.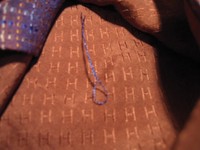 Finish: In terms of finish, the fakes are often shiny and stiff while a genuine Hermes tie is much more subtle and matte in appearance. This low-lustre effect imparts an elegance rarely seem in other ties.

Feel: If given the chance, let your fingers do the walking and simply feel the fabric: a brand new Hermes tie will have a firm, almost stiff feel to the fabric which softens over time to a rich and supple softness. The fakes are heavy feeling; genuine ties are lighter.
Width: A ten year old Hermes tie is 3 1/4 inches wide, a 15 year old Hermes tie can be 4 inches wide and an older tie quite narrow. Most of the Asian fakes are slightly wider than the current standard of 3 5/8 inches (9.1 cm and trending towards narrow again...) but, as these are hand-finished, dimensions do vary slightly. The new standard for Hermes ties appears to be 3 inches (8.1 cm).

Bias: Once upon a time every printed and numbered Hermes tie had the bias of the twill running in the same direction. If you are looking at the tie, and imagine the face of a watch, the twill will run from precisely 11 to 5 (8 to 2 for the scarf ties). This is significant as many of the fakes have a twill pattern that is the mirror image of the correct pattern; take the time to correctly identify this attribute and become familiar with it. The new Heavy Twill ties pattern is more 8 to 2, like the scarf ties.
Construction: The Hermès tie is made from only 2 pieces of material, cut by hand and joined in the middle, rather than the 3 pieces generally used by others. A piece of "buckram" lining gives shape to the tie and is attached to the silk for stability.
Lining: The self-tipped interior silk lining on a standard Hermes tie is the same color as the tie background and the twill pattern will run horizontally. The raised "H" lining commonly seen on fakes is particular to only certain models of Hermes ties (Scarf, Heavy Silk Lourde and Facconnee); the correct lining for the printed twill tie is solid and matches the primary color of the silk. The lining of Hermès ties always matches the background or base color from the front of the tie. If you see a printed tie that appears genuine, and the HHH lining is utilized, it is not the real deal.

Code: All authentic Hermes Whimsical and Geometric Ties have an Alpha-Numeric Code on the inner edge of the narrow point, about 5 inches from the tip. Study this code carefully... it will consist of a two, three or four digit number that indicates the pattern code, followed by two letters that denote the design factory (EA, FA, HA, IA, MA, OA, PA, SA, TA or UA). The tie reference printed on the back of the small side corresponds to the design number, the letters indicate the mark of the craftsman who finished the tie by hand (urban legend). Fakes will often, inexplicably, add more digits or some other confuser. The rectangular box that encloses the code will generally ( but not always) match a color from the front; it will always read: "MADE IN FRANCE" above the code and "100% SOIE" below the code. Note, also, the almost square box on the opposite side of the tie at about the same location as the code box as it will read "HERMES" over a smaller "PARIS" and both boxes will match in color. Scarf, Heavy and Solid Twill ties are an exception to this formula, as none of them carry an alpha-numeric designation. The label on these ties will be larger than that found on the standard twill ties and will read HERMES-PARIS. The twill differs, as well, running horizontally from 8 to 2 (once again, as on the face of a clock). In the past year, Hermes has added a 6 number single letter code to the Heavy Twill ties as well.
After being contacted by an irate, and extremely rude eBay member, I have added a few images of the labels, and lining, of both the heavy silk ties and scarf ties. As you can see, the labels and lining differ dramatically from those typically found on the lighter twill ties. As Hermes adds new lines of ties and variations on existing themes, look for variations in the labels and linings as well. It is important to place your faith in the sellers who consistently deliver the genuine article. For some inexplicable reason, these labels are preferred by the counterfeiters!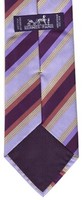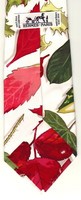 Label: Hermes labels, like their ties, have changed in size, shape, color, attachment and design over the years. The most commonly confused aspect of Hermes ties is associated with the label. Buyers new to Hermes mistakenly believe that the labels shown on 91 HA and 7850 UA, below, are the only labels that authenticate an Hermes tie. Not so, as you can see in the random assortment of labels depicted. While those labels are more common, and borne by the modern Hermes tie, the older labels are no less genuine. (NB: by no means are all of the types of Hermes labels are shown below, but rather, only a representative sampling). Use the label as one of the indicators of authenticity, not the only one! NB: the last label in the group is from a Heavy Silk Lourde Tie (see above as well).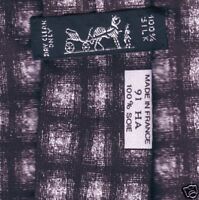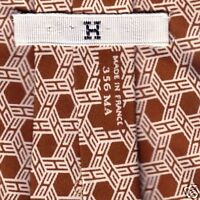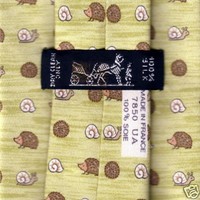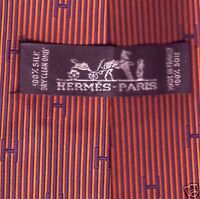 Packaging: To enhance the appearance of authenticity many of the fakes are sold with boxes and embossed tissue paper. Hermes uses a plain, white, non-embossed tissue. Fake boxes are poorly constructed as a rule, generally have a black border instead of the classic brown and the inner portion is not pure white and smooth. These boxes tend to be incorrectly shiny, as well.

Beware: The fakes are getting better but none have yet come close to the feel, look, knot and drape of the genuine article. Don't support, REPORT, sellers of fakes! ...and go back to Rule No. 1.

Are Hermes ties perfect in every way? Although their ties drape like no others, their construction superb, the silk of exceptional quality and their colors rich and vibrant they have two shortcomings. One, the colors are prone to rub off, especially with cleaning, leaving slightly lighter areas that are visible at certain angles in certain light. And two, they tend to curl inwards at the edges, pushing the face out and the edges back. Not all Hermes ties suffer from these defects, but certain designs manufactured over the years do. In the first case it was the dyes used at the time, in the second, the buckram lining. The sad reality is in that either case, nothing can be done. No amount of pressing will flatten out the tie; it is simply the nature of the materials used. I would recommend against further attempts to press it out as doing so will only weaken the material. Regarding the color, absolutely do not allow your cleaner to "spot" the tie, better a small stain than a larger, lighter patch. Rather, like a fine wine that tastes of cork, just drink through it, and admire the qualities that remain.
Take your time when appraising the auction images and you will almost never be fooled. There are still too many Asian fakes on eBay and they can usually be spotted a mile away. The fakes on eBay are setting a new low standard of expectations for buyers who are being introduced to Hermes for the first time...and the fakes are getting better. Remember, if the price seems too good to be true then it is too good to be true!

When possible buy from established sellers with a long history and positive feedback; the better the seller the better your experience will be.

Authenticity: I have sold almost 20,000 Hermes ties of all vintages over the years to experienced buyers and my feedback is universally favorable. Authenticity is a very important issue. I do not sell fakes, I never have. Nor do I condone the selling of replicas which violate a copyright; it is a crime punishable by law and dishonest. There is little one can do about the amount of fakes being sold on eBay and everywhere else. But we can learn how to distinguish authentic items from replicas by learning more about designer items, studying our sellers, checking the items carefully, checking the prices and only buying from reputable sellers. I stand behind my ties 100%. I invite you to take the tie that you have purchased from me to any Hermes boutique, find an experienced salesperson, and ask for their opinion.
I hope that this has been helpful. Please write me back if you have any more questions. Now you're part of the club. Wear it well, Andrew.

I LOVE HERMES TIES AS MUCH AS YOU DO. I DO NOT SELL FAKES! BUY WITH CONFIDENCE. AUTHENTICITY & SATISFACTION IS GUARANTEED!!!!
~QUESTION, ANSWER AND ACCOLADE SECTION~

Dear andyinternational,
I received the tie today. When I examined it, there were a few problems I
noticed. The first is that the label on the back where the back of the tie
fits through is not connected properly. The other is that where the tie was
bent around the cardboard there are little "poofy" spots that do not seem
to lay flat when worn.
I have never purchased a Hermes tie before -
this is for my boyfriend's birthday (which is today) - so I do not know if
the poofing is a usual condition that will go away or what to do about the
label. My first inclination was that this was possibly fake. I would like
to give it to him tonight if you can assure me in some way that the defects
I am noticing are fixable and that the tie is in fact real. Otherwise I
would like to return it. I hope you can get back to me very soon. Thank
you.
Stephanie
Dear Stephanie,
stephanie, thank you for contacting me. first of all, let me assure you
that every hermes tie that I sell, and have ever sold, is genuine. I have
been at this much too long, and have many thousands of positive feedback to
jeopardize my reputation by selling a fake. second of all, I abhor fakes
and am one of a handful of members of eBay that eBay utilizes to confirm
authenticity of it's hermes listings.
the tie that you purchased is quite unique. the tie is a vintage tie that was purchased many years ago
when hermes ties were sold on international flights. the packaging is know
as duty-free packaging, and the tri-fold around the cardboard, packaged
inside of a small hermes box, was designed to both save space and weight.
the silk on the tie is still as crisp as the day that it was made, and it will hang out flat
over time; it is simply the nature of the beast. the crispness of a new
hermes tie is what set's it apart from a worn, or dry-cleaned, hermes tie
(which become softer over time). once you have given the tie to your
boyfriend the tie can simply be steamed, while hanging, and the "poofy
spots" will relax. please be careful not to burn or press the fabric.
regarding the label being loose, all hermes labels are connected with four,
single, short, threads along the two edges. it is just a fact that over
time they loosen and often need a stitch to re-connect them. I did not
notice this on your tie but then again I handled it as little as possible
given it's origins.
it is a lovely gift, very classy and
you can rest assured that no one else that he encounters will be wearing
that tie.
andrew.
Dear andyinternational,
Hi Andy,
I'm shopping for Hermes ties for my husband,I learned a great
deal from your guide, thank you.
I have some more questions about the
label: what are the numbers mean? what is the latest wide for the new tie
from Hermes? What is the newest series numbers? Is the lowest numbers(I saw
some with 3 digest)are the oldest? What factory had the highest quality?
What series are most sought after? (old or new) Lastly, which series are
your favors? Thank you.
-li******eam
Dear li******eam,
many questions, some of which were answered in the guide.
- the numbers
are the design, the letters remain a mystery
- there are many different
widths these days -7.1,8.1, 9.1 cm. the most common are 9.1 (3.6 in)
-
hermes recycles designs so while 2 and 3 digit numbers were originally the
oldest they have been re-issued in different colors, lengths and widths
over the years. 59EA has been reproduced many times, for instance
- all
hermes ties are of the highest quality regardless of where it is
manufactured
- some ties are considered more collectible than others. if
you follow my pricing you will get a better idea of value (as well as my
personal favorites).
hope that helps,
good night.
andrew
Dear andyinternational,
Andrew - hope you will answer a question for me - I need to get several
Hermes ties cleaned. Is there anything specific I should ask/tell the
cleaners? Or is there basically one way to clean the ties? Any other
hints in getting these ties cleaned?
Thanks in advance,
Jeff
jeff, find the best cleaner in town. hermes ties are held together by a
single thread and can easily loose their shape. they will definitely loose
their crispness. cleaning the ties is never great so keeping them clean is
the better approach. don't fiddle with the knot and always make certain
that your hands are cleaned and not oily. never, EVER, let them spot clean
an hermes. the entire tie must be cleaned at the same time. spot cleaning
will leave a faded area that will reflect light and will drive you crazy
until the end of your days. if you can't find the right person send the tie
to tiecrafters in nyc. good luck, andrew.
~Dear andyinternational,
Dear Andy,
I thoroughly enjoy your site. I have started to collect
Hermes ties and appreciate your insight. I recently read a comment on
another site that ties can't be dry-cleaned. Do you
share this view? Any input would be much appreciated and sorry for asking
if this isn't the type of message you respond to.
Best
regards,
Nathan
nathan,
thanks for the question. while dry-cleaning a tie is best
avoided, when an hermes tie must be dry-cleaned it needs to be done by an
experienced professional. the delicate construction and silk requires a
deft hand when both cleaning and pressing. hermes ties should never, ever,
under any circumstance, be "spot-cleaned". the tie must be cleaned in it's
entirety as "spot-cleaning" will remove the color and leave a translucent
area where the stain is/was.
finally, cleaning an hermes tie will
forever change the feeling of the tie by making it more supple and soft.
that said, a clean hermes tie is better than a stained one. please note
that wearing an hermes over time will have a similar, softening,
effect.
do your best to avoid stains by discreetly tucking the tie into
your shirt, or flipping it over your shoulder, when eating.
andrew.
~Dear andyinternational,
http://www.ehow.com/how_5891638_spot-fake-hermes-ties.html
You are a complete hypocrite. You wrote a guide about spotting fakes and yet you sell
fakes. I am reporting you to eBay. I was about to trust your guide and buy
from you but I am so I got a second opinion. Two of your ties matches
exactly to the "fake" as described by this site. Also not only the above
site, but many other reputable sites says black background or "Hermes
Paris" words printed under the logo are signs of fakes. I hope you burn in
hell.
-anim***rreal
Dear anim***rreal,
pardon me? wow, you are mistaken. perhaps I can help clarify whatever concern you may have. if you read my guide
again, there is a difference between the heavy silk ties and the lighter twill ties with the geometric and/or whimsical designs. the label, lining and construction of the two are quite different. please do you research before making accusations. andrew.
~A sharp-eyed client wonders:
I'm curious, are you aware of the new heavy twill ties? they are right in between the twill and heavy silk but really an imitation of the standard silk twill ties. I thought you may want to add it to your blog on authentic hermes ties. the only noticeable differences with these heavy twill compared to the standard twill -
1) heavier (obviously)
2) the label says hermes paris like the heavy silk
3) the stitching, weird coloring like the heavy silk but has loop. as do most heavy silks sometimes you can't see them because it stitched down so tight
4) the weave, it is 11-5 on some but in between 9-3 and 10-4 on others
all this is 100% true and real as seen with my own eyes.
no, I was not but appreciate the information. hope you don't mind your message being posted.
available at hermes right now january 2011
thanks, andrew
~Hi AndyInternational, Happy Holidays! I'm in the market for a Hermes tie (or two) for my boyfriend. I know they are the ABSOLUTE best but I make a measly salary which is why I need to purchase one from Ebay. The quality of your collection is impeccable and I'm excited to purchase from you. I would like to enlist your opinion on which tie to purchase for him. He is an MBA student at UNC - Chapel Hill and will be interviewing with all of the big NYC investment banking firms in January. Do you mind suggesting a few that you feel would be appropriate for interviews? Thank you so much, your guidance is appreciated!
~Dear andyinternational,
Hello Andy -- I've bought a few ties from you and never had any problems
(not normal for Ebay Hermes I can tell you).
I have a general question I hope you can help me out with: All my Hermes ties, whether purchased new or
used, eventually develop a twist in them to one side that cannot be pressed out. The ties do not hang straight after a few wearings. The only way to correct this (I've found) is to have the ties re-lined which I've done at Tiecrafters in NYC.
Any ideas what's causing this? To be clear -- I am not complaining about ties you've sent me -- this is a general concern. I tie a Pratt knot, which is a little unusual, but cannot imagine that's the issue. Any help is appreciated.
(I'd go to Hermes but you seem to know more about Hermes then Hermes does).
Frank
dear frank, I appreciate the compliment but think that hermes may still have the
upper hand. however, back about 10 years or so ago they made a change to
the buckram lining, which is the material that gives the bulk to their ties
and allows it to form, and hold, such beautiful knots. over the years, and
not many years at that, this lining tends to "roll"from side to side. the
result is that the center of the tie, when hanging, bulges out a bit while
the edges curve towards the chest. if this is what you are referring to,
then nothing short of re-lining will resolve the issue. the good news is that the newer
lining has been improved and no longer folds on itself. unfortunately,
re-lining changes the construction of the tie as the "dovetail joint in the
back where the two edges meet at the seam is never duplicated. furthermore,
the weight and feel of the tie is never the same again. it is a no win
situation. I wear these ties as many of the affected designs are among the
best they have ever done. your call I'm afraid. I hope this helped although
it was not the answer you hoped for. andrew.
~Dear andyinternational,

Andrew,
I just wanted to say that I enjoy browsing as much as buying, and
nobody--I mean NOBODY--has Hermes ties that are as beautiful as yours. You
continually show just beautifully designed ties with beautiful
colors.

Keep up the good work,

Allen
A BRIEF HISTORY
How did Hermes come up with such a winner? The laws of fashion design dictate that ties must be serious in times of prosperity and light-hearted in times of crisis, so in the 1990s, European designers apparently were looking for something a little more playful. The new Hermes tie, with its fine workmanship, adopted a sophisticated design known in the trade as an ''all-over'' - meaning a repeating pattern in which the small identical motifs recur in a regular design covering the entire cloth. Although Hermes has been selling ties since the 1950s (and in fact is credited with inventing silk-screen printing as a decorative alternative to weaving patterns in silk), it was a minor line; the new styles changed all that. (Hermes only made ties at all because its Monte Carlo shop, located next door to the Casino, had spotted a small market in tie-less gamblers who needed neckwear to meet the dress code imposed at the gaming tables).

Hermes has started edging away from the animal motifs, partly because they have been so widely imitated. For fans, the company has a computerized search system designed to query every Hermes sales point and warehouse in an effort to locate any tie requested by a client.

Hermes is more than ties, silk scarves and Kelly Bags... Thierry Hermes established his harness making firm in 1837, in 1879 son Emile-Charles Hermes extended the line to include saddle making. The 1920's saw the addition of couture, jewelry, silver, gold, gloves, watches, overnight bags, date books and silk scarves. In the 50's and 60's came perfumes, ties, shoes, beach towels, enameled jewelry as well as women's and men's clothes. Identified with beautiful silk scarves, Hermes is known for the "Kelly Bag" which Grace Kelly made world famous.

Hermes is a French company founded in 1837 by Thierry Hermes (1801-1878) to make leather goods. His family was originally from Germany and settled in Paris around 1828. His son Charles-Emile Hermes (1835-1919), and grandsons Adolphe Hermes and Emile-Maurice (1870-1951), continued to run the family firm after Thierry died. Emile-Maurice had four daughters, one of them married Robert Dumas. When Emile-Maurice died in 1951, his son-in-laws Robert Dumas (1905-1978) and Jean-Rene Guerrand (1901-1993) took over Hermes. They added the name Hermes to their own surname. Robert Dumas-Hermes introduced the Hermes Tie, the Beach towel and the Perfumes. When Robert Dumas died in 1978, his son Jean-Louis Dumas-Hermes (born 1938) took over the company. He is the 5th generation Chairman of Hermes. He is very much a "hands-on" chairman, taking a personal interest in every Hermes product or development. He travels extensively all over the world, and brings back ideas which go into Hermes product lines. His wife Rena is a Greek-born architect and is very involved with charitable activities and philanthropy; she is responsible for the new "look" of the Hermes boutiques. His son Pierre-Alexis is next in line.

Brighten up your wardrobe and give it a witty touch. I hope that this helped. Good luck and happy buying.

Questions? Glad to help if I can so please don't hesitate to ask... Andrew.


Guide created: 22/11/06 (updated 22/11/13)