Color Enhanced Diamonds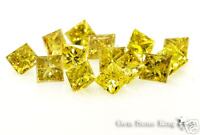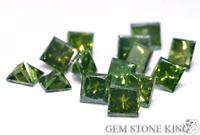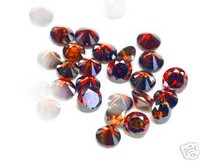 The Process:
Color enhanced diamonds are 100% natural diamonds, treated with an electronic beam and high temperatures (irradiation). The process is used only on polished diamonds.
This process is actually a mechanical simulation of a diamond's creation in nature. Different levels and timing of an electronic beam and temperatures are used for each color and shape of diamond. An industrial accelerator is used for the electronic beam. This assures Non-Radioactive treatment in the process.

The most common way of enhancing diamonds is irradiation- a process in which natural diamonds are bombarded with high energy electron particles in a laboratory in a method similar to the one used for food irradiation. Some diamonds are often subjected to further color enhancement by annealing (heating) them at high temperatures - The high temperatures are used to give the diamond the same durability and brilliance that it has in its natural state.
These diamonds are called color-enhanced diamonds and are completely safe to wear and the colors produced are permanent.
Color treatment by irradiation is based on the interaction between vacancies and nitrogen or simply by the aggregation of nitrogen or "production" of single nitrogen and is created in three steps:
1. Electron or neutron irradiation produces vacancies and interstitials, or narrow spaces, in all types of diamonds.
2. When irradiated diamonds containing nitrogen are annealed (heated), vacancies become mobile and diffuse through the diamond lattice. The mobile vacancies are then trapped by other defects, generally nitrogen, to form more complex color center (nitrogen-vacancy or nitrogen-nitrogen pairs).
3. Color centers absorb certain colors (wavelengths) from the spectrum reflecting back unabsorbed colors (wavelengths) like pink, red, yellow, green, orange, and blue. Red diamonds are achieved by irradiation and controlled annealing, but even treated reds are considered rare because the color is very hard to achieve.
The color of all diamonds that have been treated is permanent so as stable under normal conditions of wear and care and is 100 % safe.
The Benefits:
Natural (fancy) color diamonds are extremely rare: about 1-2 carats out of every 3000 carats. This explains their high price, and the fact that the jewelry manufactures use mostly white diamonds. The color enhanced process imitates nature and enables the jewelry designers more creatively options:
1. Availability: The color enhanced diamonds are available in a wide range of colors in any shape, size and quantity.
2. Beauty: Natural Diamonds are brilliant, luminous, and glowing, enhance them with vivid and intense color and you have the added effect of arousing sensations and their color variety opens new horizons for the jeweler's creativity.
3. The Demand: The popularity of color diamonds has increased and become the mainstream of the jewelry trade.
4. Price: The prices of color enhanced diamonds will be, in most cases, similar to the natural diamonds.
5. Upgrade: The color-enhanced technology provides the diamond industry with a way to upgrade its product at low cost.
Color enhanced diamonds are universally accepted and have become very popular as jewelers and designers have realized the potential of their magnificent colors, availability and affordability.
However, it is important for the seller to disclose that the diamond being sold has been treated.
Federal Trade Commission requires disclosure of gemstone treatments at every level of the trade.





Blue Diamonds Canary Diamonds Green Diamonds Pink Diamonds

Guide created: 02/06/06 (updated 27/02/12)