Vintage Madeira & Marghab Linens




What ~ Where is Madeira?
Madeira is a Portuguese Island southwest of mainland Portugal. For over 200 years, mothers have taught their young daughters the highly skilled embroidery and needlework that has become known as Madeira. Since the 1850's, the embroidery of Madeira has been considered to be the finest in the world. Using only the finest linen, organdy or bastiste, these highly skilled embroideresses have created textile masterpieces, incorporating skilled handwork such as Richelieu cutwork, Broderie Anglaise eyelet, and heavy padded satin stitches into their work. Some of the larger, more ornate tablecloths were worked on by several embroideresses at the same time and still took months and even years to finish. To be considered authentic Madeira, they must be MADE in Portugal.

*****************************************
Note : I have shown many photos of the Marghab patterns on my Pinterest board ShopFromYourSeat



Marghab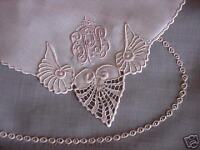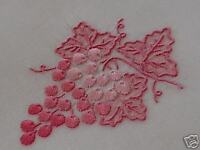 Marghab, the "Tiffany" of fine linens, used only the most skilled Madeira embroideresses and the highest quality materials to create the finest hand embroidered linens in the world. Unsurpassed in quality, they were sold exclusively in 54 Marghab salons across the country. In business from 1934-1984, they created over 300 exclusive patterns, all of which are magnificent works of art.
Marghab embroideresses were paid by the stitch! One napkin alone in Marghab's Vineyard pattern took 75,000 stitches and one month to complete! Some patterns, such as Rose Tree, Jacaranda Tree, Plume and Ponto Grega just to name a few, were copied by other Madeira or Chinese firms, some of them quite well. Marghab linens were world-famous and have graced the tables of palaces and embassies all over the world. Several are in the permanent collection of the Metropolitan Museum of Art in New York City. Upon her death, Vera Marghab donated her entire collection (over 2,800 pieces and over 300 designs) to the South Dakota Art Museum in Brookings, S.D.
Marghab linens are identified by PATTERN, (with the exception of a few handkerchiefs) so purchase only guaranteed or authenticated patterns. Many of the linens being sold today as Marghab are not authentic Marghab, and some not even Madeira. Marghab linens command high prices, so before investing ask if the pattern has been identified or authenticated by the Marghab museum.
********************************************

The Chinese Copy-cat Madeira Linens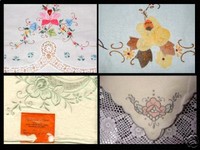 When the Chinese recognized the popularity of Madeira linens, they copied and mass produced Madeira-style linens for export to the US. These Chinese linens for the most part were made of inferior quality, and often not even made of linen. Many pieces are so low in quality they won't even survive even the most gentle of handwashing. The market is flooded with Madeira-style linens, often unknowingly sold as genuine Madeira linens. These copy-cat linens are still being mass produced in the orient today. Some are even being sold as antique. Since I'm limited to the number of pictures I can post here, watch for another guide presently in the works, on how to differentiate between true Madeira and Chinese Madeira style.
*****************************************

Today's Madeira Linens
Even though it is still a cottage industry, there are few places in the world where women play such a vital part in the national economy than in Madeira. That economy and the income those embroideresses rely on to provide for their families is at a real risk of disappearing due to the shameful production of both the old AND the new Chinese copycats. At the height of their popularity in 1954 there were 58,000 embroideresses registered in Madeira. By 1998 that number dropped to 15,000. In the last seven years that number has dwindled to just 6,000. At this rate, it will soon become a lost art.
********************************************

How to Collect Authentic Madeira Linens
One suggestion if you're a new collector, is to buy items with the original Madeira labels. Not only is this the great start of a beautiful new collection, but this will help educate you and help you identify the style and incredible quality of the skilled embroidery and cutwork. You can find many Madeira linen cocktail napkins, hankies, tea towels and guest towels selling on EBay that still have the original Made in Madeira labels, and the prices are very reasonable. We always have a nice selection of Madeira to choose from.
Visit Our Auctions & Our Store
Authentic vintage Madeira linens are highly collectible and will only increase in value as the earlier and more ornate piece become more and more scarce.
I hope this guide has helped you understand a little bit more about the beautiful Madeira linens!
Marghab Patterns List
If this guide has been helpful to you, Please Vote.....
All pictures and text are protected by Copyright law..... please do not use without written permission
Guide created: 22/11/05 (updated 22/11/13)