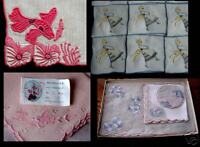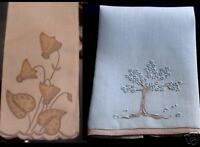 Marghab & Madeira Linen Care ~ from the Marghab Museum
The information in this guide is word-for-word directly from the SDSU Marghab museum. I received this in printed form when I purchased some of Vera Marghab's personal Marghab linen that the Museum was auctioning.
Caring for your Marghab
The staff of the Sound Dakota Art Museum have cleaned and pressed this fine linen. If you need to clean and press your linen in the future, we recommend:
* Use soft water at lukewarm or room temperature for both washing and rinsing. Ivory flakes or Orvus are both good detergents to use. Completely dissolve the detergent in water, and if needed, add non-chlorine (oxygen) bleach BEFORE inserting your linen. Gently agitate your linen, if needed. You may also let your linen soak for a short time except for those made with Margandie.
* Once the linen has soaked, be sure to rinse it thoroughly to ensure removal of all the detergent. Your final rinse should be with distilled water to prevent hard water minerals from causing future discoloration.
* Do not wring your fine linen, but rather foll it up in a towel to absorb excess water.
* Press your linen from the backside, on a clean, smooth and padded surface while still damp. It is best to use a solid plate iron with no steam. You may notice that some types of linens will shrink. If this happens, gently stretch the embroidered section while damp and then press.
* Do no press folds into your linen, rather, finger press. If you use your linen frequently, it is best to place the folds in different positions every time to avoid fiber/yarn breakage.
* If you plan to store your linens, use acid-free tissue and avoid plastic bags and color tissue papers.
* Marghab linens were made to be used and displayed. Enjoy your linen!
Note : I have shown many photos of the Marghab patterns on my Pinterest board ShopFromYourSeat
ShopFromYourSeat
Antique and Vintage Linens and More

If you have a moment, Please Read & Vote on my Ebay Guides!
If this guide has been helpful to you in caring for your fine linens, please let me know by voting!
Guide created: 29/08/06 (updated 19/08/13)