I am writing this guide at the risk of looking petty, simply because I'm mad. I am not one to talk trash about anyone but I have been wronged more times than I can count and Ebay does not do JACK! Just about everything I've done, everything I've worked hard for over the past 9+ years on Ebay this seller steals from me with no repercussions from Ebay. It's like he has a cousin working at Ebay protecting him. I was told by Ebay it was okay for him to steal my description of my Marco Valentino suit word for word because he changed the font!!
In my store you will find a suit and honest service that is true and right. Unlike our major competition that steals the names of our designers by rearranging the spelling like our Nikkoletta line and our Marco Valentino line and then advertise a polyester, Made in China suit as a full canvas, silk/wool, Made in Italy $1999 suit for $149. ($149? Heeeeellllo?? Who believes this?) This seller steals our description of our suits, our layout, our designer's names and even our hard earned slogan 'We are Ebay's top seller of suits and ties". I'll tell ya, if he had an origional thought it would die of loneliness.
He has had over three different Ebay user ID's suspended, he claims to be an Italian named "Tony" with 20 years experience in clothing that travels to Europe for fashion when actually he is a street kid in his twenties from Iran that roams the streets and back alley's in LA's fashion district for knock off suits they can misrepresent. The picture of his store front on his site are fake and stolen from a Robert Ley store in Germany, as is his address listed with Ebay is a small office above a discount mattress store in a bad part of LA as pictured below. Nothing about this seller is true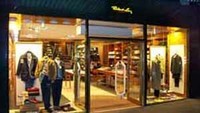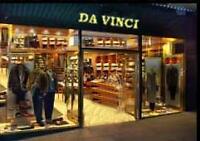 .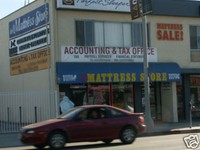 The REAL Robert Ley in Bonn The FAKE Davinci Store The real Davinci
It amazes me how many people fall for his deception and Ebay allows it by turning a blind eye even after being reported time and time again by many buyers. If you are one of the smarter buyers that realized the suit you actually received is a cheap knock off with fake tags you will get your money back only after leaving him glowing feedback and losing a 20% restocking fee. Yah, this is how he works and there are a few brave people that actually bit the bullet, took the loss and posted it in his feedback as listed below for your review.
Our mission is to provide honest goods exactly as advertised and bring bad sellers like this to light. We will never falsely advertise an Asian suit as Italian, nor do we steal other seller's descriptions, way of doing business, slogans, their product lines or anything else! We are the read deal. Our store is run with originality, respect to other sellers, honesty, integrity and above all else we offer a fiduciary type service to all of our buyers. Our feedback and four full reference pages are how they are because we earned those letters one by one, not because we held feedback hostage.
Hopefully the law, karma or both will catch up to this bad seller one day but until then "Caveat Emptor". It's impossible for anyone to offer a Made in Italy, silk/wool, non fused, fully basted, full canvas suit with working sleeve buttons for $149 when it costs almost $300 just to make that kind of suit! Come on man! Don't let greed make you a sucker! Cabisce?
PS. Don't just listen to me. Read the guide by "smartbuy4all" about his experience and here are just a few of his buyers that got ripped off:
BUY MEN WOOL SUITS SOLD ON EBAY AND RECIEVE POLYESTER
by smartbuy4all ( 841)
Follow-up by maianna321 (Feb-16-10 00:23):
LIAR FRAUD THIEF. Cheap knockoff, blackmail +ve feedback b4 (partial) refund G. VALENTINO $1598 MENS SUIT WOOL 130-2 CHARCOAL 54R (#350296452171)
Dishonest seller. Tried refusing return and feedback manipulation. Didn't work! Tonemoo (331) #200463224809
Quality not worth price ,restocking fee prevents return,would not buy again tangobubi ( 321)
disappointed in the quality of cloth and tailoring...speedy delivery. pryan8304 ( 5 )
Poor worksmanship, materially different from the advertising. Buyer beware!!! woodtone ( 45)
Warehouse" quality suit, Bad fit, charged return/restock fee excessive 20% dirtyred_99 ( 94)
His suit was comparable to liquid feces!!!!!! Will not b uy again, to put mildy! fredrickparkfield ( 38)
WHAT YOU SEE ITS NOT WHAT YOU GET FOR BUYER 'S HOW LOOK FOR QUALITY FORGET THAT yves447 ( -1 )
Please, material is not 140s wool as led to believe. Hidden descrption of fabric johnsonmrj2665qkb ( 54)
Suit is extremly poor quality, measurements are off, BUY AT OWN RISK per0402 ( 81)
Poor quality. Seller refused to refund money. Wasted $130 for nothing. :( uu89 ( 78)
Poor quality of item threads loose and cut of material was crooked vcyric ( 14)
HORRIBLE,HORRIBLE,HORRIBLE.ARROGANT SELLER.VERY MONEY HUNGRY.NOT AN ASSET TO EBAY oveportions ( 63)

Item I received is not as described, late reply, bad communication, never buy. wilsonhgsus ( 3 )

Suit was poor quality, I wanted to return, Seller never responed to my emails. pkpei476 ( 55)

Rizzoli $1499 was not true. I checked with Mean Wear Store opinion as well. agavedh ( 4 )

The pictures do not give accurate impression of the product thelion1946 ( 16)

Bad quality & Requires buyer to leave Positive feedback BEFORE will allow return cagymf ( 16)

Mediocre quality - at best. Seller retains 20% even if defective item return. pogpc ( 30)

Suit had minor defect, but repairable. Seller said it was my problem. 1010eric ( 41)

Qulity sucks. Need complete restiching & merchandize is irregular. vabkian ( 26)

No ExchangeWithout38.00AndHaveToLeaveNiceFeedBackImOut114.00For This Feedback 1gigamonster ( 36)

Measurements were stated incorrectly. Cheaply Made Suit. Paypal Refunded Money wuntit ( 443)

FRAUD,SUITS R POLY,NOT WOOL,CHINA MADE,OPEND DISPUTE W/PAYPAL,REPORTD 2 LAW AUTH smartbuy4all ( 831)

Paid 4 WOOL BUT Received POLYRAYON*Contacted District Attorney*Contact me 4 INFO st3ll18 ( 8 )

Hard to get Refund, Seller Req. Feedback & Cancellation B4 Issuing RMA? BAD! sonic_bloom ( 320)

the material is of low quality, no way it is orignal. mserieh ( 12)

Ok.quality lower than expected.Tailor agreed Then again,it was a great price htownbochur ( 45)
Guide created: 12/03/09 (updated 19/08/13)