Regulations and Information on Tarpon in Florida!
Regulations
No minimum size limit or closed season; 2 per person per day limit; Requires a $50 tarpon tag to possess or kill (Purchased from County Tax Collectors Office). !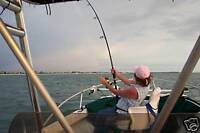 General Information :
Tarpon are very primitive fish. The swim bladder of these fish connects to the fish's throat and they can use it as a primitive lung. This allows the smaller and younger fish to gulp air when the water is low in dissolved oxygen. This is a common occurrence in the shallow backwater bays during the summer, the place where small tarpon spend most of their time. One of the ways to scout for the presence of the "silver king" is to look and listen for tarpon to "roll" on the surface. That's when they gulp air and pass it into the swim bladder.
Tarpon begin their spawn in mid May and reach peak activity in June and July. Large, females may carry as many as 20 million eggs. The fish swim offshore to spawn but within 30 to 45 days, the young fish that have survived are an inch long and are moving into the estuaries where they will live for the next few years. The small fish move far up the tidal creeks looking for small protected areas where they can live and escape their predators. Some of these fish become land-locked in small ponds and ditches as summer rains subside and the mangrove forest dries out. This explains why many people see and catch tarpon in areas where it looks like the fish could never have reached.
Thank you Capt Jay Masters FAT CAT FISHING CHARTERS
Guide created: 26/01/09 (updated 19/08/13)