ST JOHN LABELS
ST.JOHN Knits, Inc. is a leading designer, manufacturer and marketer of women's clothing. It has been and is associated with high quality and a specific look in knitwear characterized by vibrant colors and classics with timeless styling. The ST JOHN "look" has created an exclusive image, engendering consumer loyalty.
The ST JOHN company organizes its collection into principal product lines. The breadth of each of its collections enables the company to compete in most segments of women's designer clothing. If you are fortunate to find a suit with all the tags attached, you have found a very "special" ST JOHN piece. Sometimes items were purchased and never worn for some reason or another and the item was expensive, but is sold for a small price.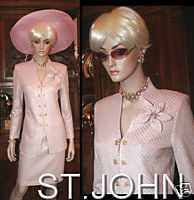 ST. JOHN Product Lines
The company's products are predominantly knitwear, sold as a collection of lifestyle clothing suitable for women's business, evening, cruise and casual needs. ST. JOHN knitwear is a year-around product, non-confined to a single season or climate, due to it's all purpose weight. The company designs collections to encourage consumers to coordinate outfits. Each product line is sufficiently comprehensive to stand alone, or you can add some pieces from the BASIC line to extend your different looks. This is why you see sometimes a Collection jacket sold with a Basics skirt or pants on eBay. The rayon & wool Santana knit is exact. It is always wise to have the jacket and skirt dry cleaned at the same time so they stay exact.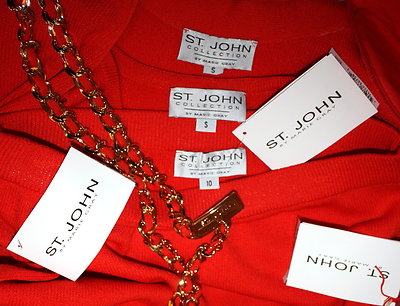 The ST JOHN Evening line features paillettes and crystals on many of the garments. It is less expensive than the ST JOHN "Couture" label with many of the same amenities. The suits and dresses are decorated with paillettes and Swarovski crystals, crystal buttons and satin piping. Many pieces have embroidery trim and designer finished buttonholes. Most of the "Evening" line can be worn year 'round and are especially delightful for holidays.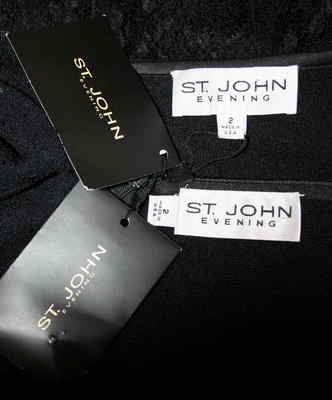 The Collection group are the timeless classics. The Collection line consists of elegant ready-to-wear styles for which the ST.JOHN company best known. This line of daytime fashions includes sophisticated dresses and suits that focus on a tailored look and are aimed at active women engaged in all kinds of lifestyles. Two-piece suit styles within this ine have historically been sold as a single unit, however the company offered the pieces as separates too. The accents and buttons are 22K electroplated gold finished and many with enamel matching the outfit. The jewelry is no longer made, however it was very popular because many times the outfits had matching jewelry that you could buy separate in the ST JOHN accessory department.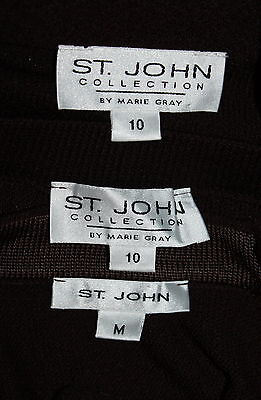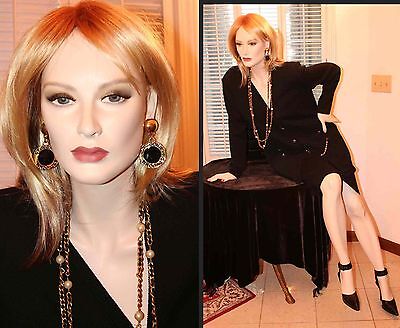 The Griffith-Gray collection group,is no longer made,but is still highly collectible. In 1994, Kelly Gray, ST JOHN'S #1 model, Director of Advertising and daughter of the designer, Marie Gray took her fashion instincts higher to develop Griffith & Gray - a collection of woven sportswear co-designed by Kelly and longtime ST.JOHN designer Diane Griffiths. The line, which included everything from suits to evening wear was aimed at younger women who might not appreciate knits but wanted a more tailored, contemporary classic look. The line was success and produced beautiful garments that were made in Italy and often more expensive than the ST JOHN knits.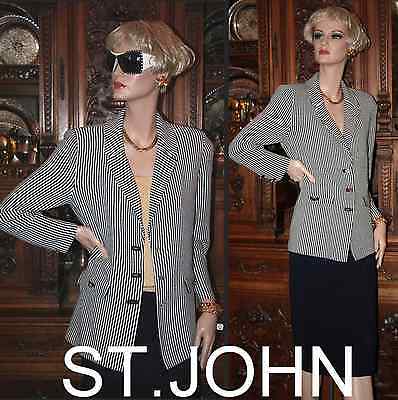 The Basics line is comprised of the ST.JOHN company's seasonless products, such as classic jackets, skirts, and pants that are an integral part of women's wardrobes, all in solid black, white and navy Santana Knit. The designs are so basic that they can be combined with any number of styles from any of the ST JOHN company's product lines worn for daytime or dressed up for evening. Basics items are made available for sale by the ST JOHN company throughout the year. Since Basics items are seasonless, they do not have sales or any retails markdowns as a rule.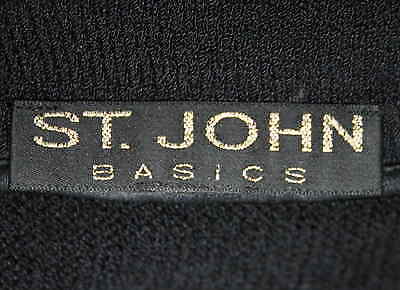 The Couture line is "first cabin" and it very dressy with the Couture label consists of dresses, theatre suits and dressy separates. The basic look of Couture is one of innovative, often luxurious touches such as layers of transparent pailletten and sequins, embroidered sleeves or glittery collars and cuffs with Swarovski crystals. Many of the Couture outfits are silk lined. The upscale "Couture" label is regarding as the top-of-the-line. Notice the gold 22K electroplated gold chain and COUTURE plate on the label.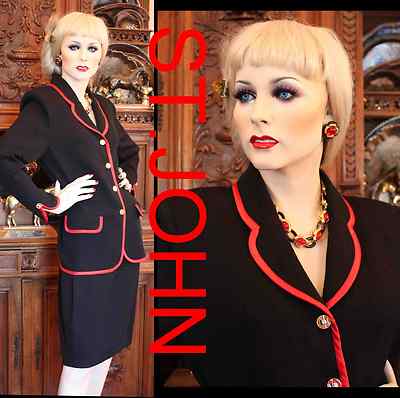 The Sport label offers sporty styles in many fabrics and knits. The Sportswear Line is comprised of separates including jackets, pants, skirts, coats, novelty sweaters and jeans. This product line is more casual and modern and represents a departure from the ST JOHN company's emphasis on classic styles. It is designer for and marketed to the younger woman, but is not designed with "trendiness" as a goal.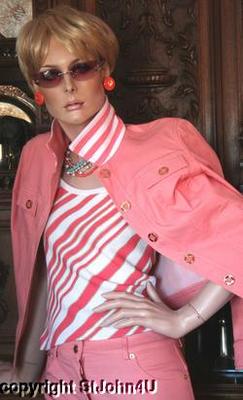 The accessory line once produced purses, shoes, scarves, and jewelry that matched the outfits. The scarves are usually 100% silk and the jewelry is 22K electroplated gold. The purses and shoes are Made in Italy. Expert Italian craftsmen used the finest natural materials.
The ST.JOHN jewelry combines an alluring mix of captivating color, whimsical elements and understates elegance. Inspired by art, history and fashion, each classic silhouette reflected the designers signature flair for timeless style. Each is an enduring expression of ST.JOHN standard of excellence.
If the guide was helpful in anyway, please vote YES below. Thanks
Guide created: 29/01/07 (updated 17/03/14)