Miners Candlesticks (Sticking Tommys)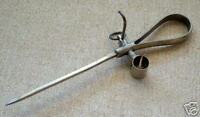 When collecting mining artifacts and miner's lighting devices in particular, a must have item is a vintage candlestick holder, also known as a sticking tommy. These candlesticks were the precursor to oil wick, carbide, and eventually electric cap lamps. This guide is not intended as a complete history and buying guide, but more of a general guide to a first time buyer. Most of the candlestick holders were hand forged by small time blacksmiths. There were some sticks with folding handles, some were very small, and still others were designed to be attached to a carbide lamp for the transition from candles to carbide. The sticks in the mines were pounded into a timber or the rock substrate to provide a neccessary if futile light to work by. The typical and most common sticks will be around 11" in length, have a sharp point on one end, a larger rounded oppposite end, a small cup or cylinder for the candle to be placed into and an attached hook for hanging.
(Above) Justrite Carbide lamp w/ candlestick attahment.
There are a multitude of designs and manufacters to choose from. Some of these sticks were patented and you will pay more for these than you would for a common unmarked model. Ornate details and fine craftsmanship will also draw more dollars as it is with any collectible. This however also brings us to a negative side of candlestick collecting and that is fake or reproduction sticks. Since blacksmithing and silversmithing is not a lost art, as many people still to this day practice this primitive profession, there are people out there that will try to sell you a modern stick that was made to duplicate or imitate a vintage stick with the intention of misleading you. There is nothing wrong with someone making a modern copy, but there is something inheriently wrong about selling it as an old one. These repro sticks litter eBay at times and dupe many people into spending hard earned cash for a fake. These fakes will often have ornate details, folding handles, etc. Remember the old adage, if its to good to be true, ....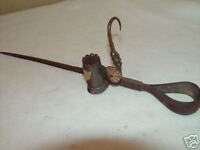 (Above) Very ornate and origional candlestick holder.
There are thousands of variations in sticks that include but not limited to folding handles, mini sticks, pistol grip sticks, ornate sticks, sticks of exotic material (ie silver, brass, etc.), carbide lamp sticks, and the list goes on. If all else fails and you want to be certain that a stick is legitimate, contact me through eBay and I will put you in touch with an expert that will be more than happy to help you. I hope that this guide has been helpful, if so please click the "yes" buttom below and let me know. Thanks!
Guide created: 15/09/06 (updated 19/05/13)