BUYING VINTAGE PRINTS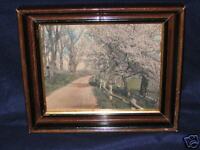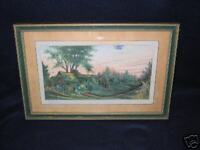 http://stores.ebay.com/APRILS-ATTIC-TREASURES_W0QQcolZ4QQdirZ1QQfsubZ0QQftidZ2QQpZ2QQtZ
Hello to all once again in the realm of Thrift Stores, Antique Hunters, and Estate Sales!! I have compiled a few tips on buying antique art prints, lithographs, and original paintings and sifting through the art trash and discovering the art treasures!! Very few items peak my royal interest more than a box of dusty paintings stacked together in a box at an estate sale. Especially when the frames are old and dusty, too. Some people may be nervous about buying and sellling vintage prints and wondering what the heck is the difference between a lithograph or a print. You do not have to be an art expert to be able to distinguish a valuable piece of art from the mundane. If you find yourself staring at a box of old paintings consider yourself extremely lucky and consider these following helpful tips:
(1) LOOK FOR A SIGNATURE!!
If you are blessed with the luck of the Irish, every old framed picture that you come across will have a clear and readable name written in one of the lower corners. If you have at one time or another ticked off any little green men that spoke with an Irish brogue accent, you will need to do some research. Don't stop reading at this point....Research can be fun and enjoyable and you will start getting used to some of the signatures that will be the most rewarding for your collection or your store inventory.
(2) OKAY THERE IS A SIGNATURE, DOES ANYBODY COLLECT THIS ARTIST??!!
There are a vast number of artists and you will be required to learn and spell each of their names right now......please continue reading after you collect yourself off the floor because no one could name every artist and I can barely pronounce, much less spell, some of their names. How about we just try and stick to some of the most collectible in this guide and leave the in-depth discussions for the art experts. We simply want to buy and sell vintage paintings, not delve into the merits of Paul Cezanne's style and technique over Pablo Picasso's. I would probably fall asleep during my own guide if we went into that territory, anyway.
Names to be on the look-out for: (everyday, on vacation, driving by the yard sale sign on the way to the bank, and especially when visiting your in-laws for an extended period of time...2 days, yeah, 2 days is my limit on the extended time for visiting in-laws).
Maxfield Parrish
Wallace Nutting
John Taylor Arms
Thomas Hart Benton
Marc Chagall
Henri' Matisse
C.H. Vogt
Rockwell Kent
John Boydell
J.P. Newell
Sam Savitt
Currier & Ives
Bessie Pease Gutmann
Charles H. Sawyer
David Davidson
Fred Thompson
Florian A. Baker
Okay these are just a few of the more well-known and collectible artists of the late 19th and early 20th century and if you get familiar with these names you will be well on your way to beginning to have a little bit of knowledge in the art print field. To all the art experts out there in the realm of Art Wisdom and Interpretation....this is for the basic seller and buyer and it is not to be taken for the absolute guide to cultural art and please take it for what it is....a beginner's guide on the identification of early prints, and artists. To all the beginners reading this guide....I am the Queen, afterall, and that means I set the rules in my realm. So I am always right and don't listen to the naysayers and off with their heads!!
(3) HOW DO I TELL IF IT IS ORIGINAL, A PRINT, OR A LITHOGRAPH??!!
The best way to know is to look at the painting. Does it have a printing company label or numbers that look like this 220/1000? Does it have a lithograph publishing company stamp on any of the corners. Is it handsigned?? Does it have a stamped signature?? Is it a copy of an original picture or painting? Does the back of the painting have a printer's mark or stamp on it? If you can't find anything on the painting or in the painting to help identify it, then use this as a last resort only....Carefully take away the back of the painting from the frame. Remember to carefully protect the picture and the glass and the old frame as much as humanly possible while doing this procedure.
If you can find anything on the picture or painting then research what you found. Once, the only thing I could find anywhere on a vintage picture was a small sticker with the printing companies name on it and a date from the 1950's and a city, Dallas, Texas. Stuck, I don't think so. I researched the companies that had business licenses issued to them in Dallas, TX in the 1950's. Voila, I found the printing company had been bought out by a larger company and googled the larger company for its listings of vintage prints issued in Dallas during the 1950's. I found my artist and the title of my painting. Yes, I know, please, stop bowing you are all embarrasing me.
This is the actual piece of art that the actual artist painted. The artist took his brush and made each stroke and color on the painting. He may have used oils, watercolors, charcoals, pen & ink, or the blending of mashed flowers but he/she actually worked on the piece of artwork personally.
PRINT (LIMITED EDITION OR OPEN EDITION)
A print is a work of art that meets these requirements: 1. Creation of the master image by artist alone on the plate, stone, wood block or other material, 2. the execution of the print by the artist himself or under his direction and knowledge, 3. approved by the artist himself.
A print reproduced by the process of printing from a smooth, flat stone or metal plate on which the picture, design,etc. is made with a greasy material that will hold printing, ink, and the rest of the surface being made ink-replellant with water.
And lastly, realize that you are dealing with the marketability of an artist, printer, or lithographer. The condition and subject matter of the painting and frame are also important aspects to consider when buying or selling your vintage pictures. A vintage print or lithograph with the original frame and glass usually bring higher prices on the market and good subjects to deal with are Western, black americana, art deco and art nouveau.
Well now you are ready to go out and buy those remarkable vintage prints and paintings. So good luck, be nice to all leprechans you meet, and be confidant in yourself. If you like a vintage painting for whatever reason it appeals to you, chances are it will appeal to others, as well.
http://stores.ebay.com/APRILS-ATTIC-TREASURES_W0QQcolZ4QQdirZ1QQfsubZ0QQftidZ2QQpZ2QQtZkm
Guide created: 29/05/06 (updated 20/11/13)