Of course, there's the search box, right at the upper right hand side of almost all eBay pages, but there's gotta be more to it, right? Here's a guide that can tell you how you can use eBay search to eventually, find that item that you've long been searching for!
Performing your search
Doing a search depends a lot on the words you use to find the stuff that you're looking for. A more general search will yield tons of results, though most wouldn't be too relevant. While a more specific search will give you limited items, and you wouldn't have too many to choose from.
One of the first things that you would want to consider in searching is using the right words to search for your item. For example, I'm looking for a nice pink hoodie. If I search using the word 'hoodie', there would be tons of items listed that would match my search, so eBay will give me a general page that lists categories where I can find my item in, to narrow my search down. I, in turn, will have to sift through all those categories one by one to find the item that I want. Of course, you wouldn't want to spend too much time looking for the stuff that you want to buy, so being specific is a good way to go.
I search for 'pink hoodie' and it yields a smaller search results list, so I go through that, but the list seems to large. If I had a more specific pink hoodie in mind, for example one from the a specific brand - I would put in 'Brand Y Pink Hoodie' or I wanted a specific fabric, I could put in 'Velour Pink Hoodie'. In this case, there's a smaller search result and I'm able to find what I wanted to look for.
But wait, are these all the pink hoodies that eBay sellers have to offer for me? Shouldn't there be more to that? (Especially if I didn't find the one that I liked) Not to worry, your search doesn't end here, there is more to it than using the usual search box at the upper right hand part of the eBay pages.
The right keywords
Your keywords are the words that you use to search for your item. Choosing the right words, do mean a lot for you to be able to find the item that you want. You might want to consider that some other sellers may describe the item that you are looking for with different words. They might list my pink hoodie for example, as a pink jacket or a hooded sweater. So be creative, find a Thesaurus, people don't always describe the item that you want the same way as you do. Maybe they listed it as a mauve hoodie or a light red one, perhaps?
The advanced search page
Here's a cool tool from eBay that takes your search to a higher level. If you haven't used it yet, notice the Advanced Search link at the bottom of the search box? You can click on it and, voila! - there's the advanced search page.
So how do I use it?
There's a couple of things that you can do with it and one useful tool is to be able to search using the title and the description. The trusty search box only bases the search on the title of the listings at eBay, so if the seller had a title for my hoodie as " Awesome Cool and Pink , Size 5" it wouldn't show up in search if I search using "hoodie". In that case if the seller did describe it in their listing as " I am selling an awesome and cool pink hoodie, size 5" if I do an advanced search putting a check mark to search using Title and Description, I will be able to find the listing using "hoodie". There's also lots of other things that you can do on this page, you can choose to search in a specific category, sort it by time and if you click on the Advanced Search link on that page as well, there are tons more to it, like sorting by number of bids, searching for items within your location or country, etc.
So, what if you've done all that and you haven't found what you've been looking for?
Another great tool to find your hard to find item is performing a completed items search. Auctions usually go for 7 days or even 10 , after that, they end. What if a seller just had their listing end for the perfect hoodie and I was a day late in searching for it at eBay? Then you can search for items that have already ended. To do this, on the Advanced Search page, you can just put a check mark on the option "Completed Listings only" .When I do a search for completed items, I'll be able to see what items just ended and I see my hoodie. I can just click on the Ask the Seller a Question link on the item's page to ask if the seller will be listing the item again soon or has another one for sale. ( Just remember, it's always best to complete transaction within eBay, so if the seller asks you to purchase it outside of eBay, be wary).
Search eBay Stores
If you still havent found that item that you want, you can also do a search at eBay Stores. You can find the stores site of you go to eBay's Home Page and click on the eBay Stores link on the left side.
Why do a search on eBay stores?
The search box at the main eBay site doesn't search items that are listed as store items, so if my pefect pink hoodie was listed as a store item by a seller , I wont be able to see it appear on the search results when I use the eBay search box. There's a wealth of items listed in the eBay Stores site, so you'll really be able to see a lot of items when you go to eBay stores. All you have to do is to place your keywords on the search box that says "Search for items in Stores" on the eBay stores site and you'll get to see tons of other items listed at eBay, that you werent able to see before when using the main site search engine.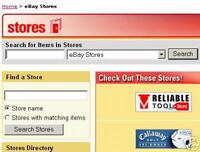 If you still haven't found your item, there's still hope yet. Maybe next week some new seller will be able to list your perfect item. You can check back every now and then, but...there's also an alternative...
Post a Want It Now Ad
If all else fails, post an ad for the item you are looking for! eBay's Want it Now site makes you be able to post a message on their Want it Now boards so that you'll be able to let sellers know what you want to buy. Once a seller sees your ad, they will be able to let you know if they have the item that you want. Cool ain't it?
You'll see a link to Want It Now on eBay's Home Page as well. You can just go to the Want It Now site and click on Post to Want It Now to be able to post the ad up for the item that you want to buy.( Though, new members wont be able to post an ad if they don't have a credit card on file at eBay or have a feedback score of 5 and up.)
Searching for items are easy once you know, how. You can also check out some of these pages on eBay to help you out:
eBay's Search Tips

- heres a page that can also help you out in searching for that elusive pink hoodie

eBay's Search Commands

- this page will let you know of eBay's search commands, like putting "" (quotes) for an exact phrase search or placing a minus sign if you dont want to certain words or items not included on your search ( pink hoodie -blue). You can check on this page to know more about the search commands for a more complex search.
Happy Searching! :) - meeyaw
Guide created: 05/10/05 (updated 28/02/08)