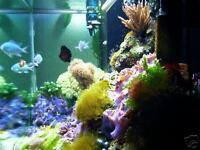 MARINE OR FRESH WATER ?
The ever pressing question of weather to keep a fresh water or advance to a marine reef aquarium is one that certainly haunted me for many years. I guess I would say that fear prevented me from taking the leap. The fear of failure. The fear of losing vast amounts of money as I watched my expensive purchases die off in droves. There is no doubt that a marine aquarium is more expensive than a fresh water tank, but the rewards are also that much greater.
There is no way that a fresh water aquarium will ever stand up to a reef aquarium. That is a personal observation of course, but the whole time that I kept a F/W tank, nobody ever walked into my house and said to me "WOW! what a beautiful aquarium. Is all that stuff alive? Just look at the colors." I have had people sit in front of my reef aquarium for an hour mesmerized, and the reality is that there are many, many, more aquariums out there that are more beautiful than mine. Be that as it may, this guide is to provide to the beginning marine aquarist basic principles to help them be successful. I am going to share with you the things that nobody will tell you out right. For some reason reef keepers are loathe to give up their secrets. I have read many books, and none of them put enough emphasis on the information I am going to outline for you here.
First, let me say that a marine aquarium is not as difficult as you might think. Think about it. When you were young, your mother probably had you gargle warm salt water if your throat was sore. That is because salt has inherent healing qualities. Even today, saline is used to clean your contacts or spray in your nose for allergies. So if you think about it a salt water tank is basically a healing environment. That is not to say that there are no pitfalls or that there are no bad things that have learned to cope with a salt water environment, because unfortunately there are, but I have, without a doubt, had fewer problems with my marine aquarium than I ever had with a F/W tank.
THE SET UP:
The worst possible thing that you can do when setting up a reef aquarium is to get in a hurry. Slow and steady wins the race EVERY TIME! What ever you read. What ever you are told about speeding up the cycling process, it will take about three months for your tank to complete the cycling process. What is the cycling process you ask? OK, I am going to make this as unscientific as possible. Cycled is the term aquarists use to define the point at which your biological filter has developed. When you first set up your aquarium, it is like a blank canvass. You have put in your substrate (usually live sand or crushed coral) and your salt water. At this point, your bacteria is not in sufficient numbers to break down the waste, left by your fish, into non-lethal elements.
This is where many begining aquarists fail. They are in a hurry to add animals to there aquarium or color to the canvass. When your fish excrete waste into the aquarium, the waste breaks down into ammonia. Ammonia is toxic not only to the marine environment but to the F/W environment as well. But, to the rescue comes the nitrifying bacteria. The bacteria breaks down the ammonia in to nitrite and then further into nitrate or nitrogen gas which is more easily used by aquatic plants or leaves the aquarium through gas bubbles. Some of the waste is removed through other means such as carbon filters or Protein skimmers, but I will cover that later in the article.
To set up the basic aquarium, if you are using crushed coral, rinse with fresh water until your water is fairly clear. You don't want the water to be completely clear, and then add the substrate to the aquarium. Mix your salt water, using Reverse Osmosis (R/O) water if possible, 1/2 cup of sea salt per gallon. If you use tap water instead of (R/O) water, use a quality water conditioner to remove chlorine and other heavy metals. Place a dinner plate or something similar in the bottom of the aquarium and ad your water pouring over the plate and fill it up to the overflow. If you are using a sump, fill it about 1/2 full of sea water as well. Plug in your pumps, heaters, and lighting. It will take 3 to 7 days for the water to clear. If you are using live sand, follow the instuctions for adding live sand. DO NOT rinse live sand with fresh water!
CYCLING:
To begin the cycling process, ad one or two Blue Damsels to the aquarium. Blue Damsels are hardy and can withstand higher levels of ammonia than other species of fish. The cycling process may also be started by adding live sand or live rock. If you do it this way, you need to test your ammonia, nitrite, and nitrates weekly with a test kit until they are zero before adding animals. If the live rock is uncured, you will need to cure it before adding any living animals to your tank. I will cover this process later.
By adding either live rock, sand or fish, you have introduced the living bacteria needed to start the nitrogen cycle. The nitrogen cycle is, simply put, the process of breaking down waste into non-poisonous by products. There are many methods of jump starting the cycle including but not limited to adding a bacterial additive. The best way to tell when you have established your biological filter is through testing. when your ammonia and nitrite have reached zero, the cycling is sufficient for the current bio-load. This process can take between one and three months. Don't get in a hurry!
The aquarium is now ready for additional animals. Start with another fish, and check your ammonia levels weekly until they return to normal. They may spike with additional animals, so at this point I want to emphasize "ADD ONE ANIMAL AT A TIME". You can stress your system by overloading it. If you have added live rock at this time, your aquarium has a stronger biological filter than ordinary rock or decorations and is more likely to respond quickly to the addition of more animals. As a general rule of thumb, you may have 2 inches of fish for every 10 gallons of water. That works out to about five 2 inch fish for a 50 gallon aquarium. You will want less than this for a reef aquarium.
ANIMAL INTRODUCTION:
before we get into adding new animals to your display tank, I am going to introduce you to the school of hard knocks. Once upon a time, I purchased a beautiful Yellow Tang through a well established online retailer. The animal arrive in great shape. I floated the bag in my aquarium and added sea water from my aquarium to the bag 1/4 cup every 5 minutes for two hours and released the Tang. Everything was wonderful he was a beautiful addition to the Royal Gramma, Clown Fish, Mandarine Goby, and Coral Beauty in my 65 gallon reef tank. The Tang was OK for about a week, and then it stopped eating. I consulted the vendor and they suggested that I add some garlic extract to some seaweed. It still was not eating. Then it began to scratch by flashing against the rocks and hiding in the corners. I looked at it and it looked fine, I couldn't see anything wrong with it.
Finally, one night as the lights were going off, I noticed under the blue atenic light that I could see little white spots and they were all over it, and not only that but they were all over the other fish as well. So being the smart fellow that I am I made a trip to the local fish store (LFS). I am not going to go into the hell that I went through for the next month, but will suffice to say that the lovely Tang I purchased had brought with it Marine Ich, a particularly nasty little parasite. The (LFS) sold me everything under the sun that could be used in a reef aquarium, as LFS's are prone to do.
Nothing worked.....All the fish died. I was informed by the (LSF) that without the fish the parasite would die off in about a week and it would be OK for me to add new fish. Wanting to be sure, I waited two. I started by adding a yellow tailed blue damsel. In about a week he was overcome with parasites. By this time I was ready to through in the towel. I was swearing off ever having another saltwater tank of any kind. But I really really wanted a successful reef aquarium, so I began studying up on marine parasites, and in particular the Ich parasite. What I found out is that the only cure for Marine Ich is COPPER. You CANNOT put copper in a reef aquarium. It is lethal to coral and invertebrates at almost any level. Additionally, once Ich is in your aquarium, it will take 30 to 45 days without a host for the parasite to die off. That means NO FISH IN THE DISPLAY TANK FOR 30 TO 45 DAYS.
OK, I know that this was a long drawn out path to get to my point, but you will thank me in the long run. The point is you MUST SET UP A STAGING OR HOSPITAL TANK and you MUST PUT ALL NEW FISH THROUGH THIS TANK THREE WEEKS PRIOR TO MOVING THEM TO THE DISPLAY. During this time watch them for unusual behavior such as scratching, hiding, heavy breathing, swimming only facing the current. Also check them for open sores, and white salt grain sized spots. There are many diseases that afflict marine fishes and this artical is not designed to walk you through them or help you to diagnose them. Even your most advanced aquarists have a tough time with diagnosis. I will however point you to a web-site that I have found to be very helpful when confronted with difficult issues, advancedaquarist.com.
On to adding the animals. The first thing to decide is are you going to have a fish only aquarium or a reef aquarium? To answer this question you need to know that the invertebrate and corals require a much more detailed care. A fish only tank can be maintained by providing regular small water changes and a protein skimmer to remove dissolved wastes. On the other hand a reef aquarium requires you to test your water regularly and develop a dosing schedule of supplements in addition to the small water changes. Additionally, many corals require strong specialized lighting to maintain a symbiotic algae that grows in their polyps, and usually a higher water flow to bring nutrients to them.
So you have decided upon a reef aquarium. Nice choice! Before you start adding animals, you should study up on the animals you would like to have. It is important that you know if your inhabitants are compatible. For example, Pipe fish are really cool to look at, but they require fairly quiet water, they cannot be in with aggressive tank mates because they move slowwwwwwwwly and cannot compete with the other fish for food, which by the way has to be either live baby brine shrimp or a healthy population of copepods. Blue Damsels are nippy and tend to be territorial, and Leopard Groupers grow to be very large, and can feed on your smaller inhabitants which means if you have a small tank you will be buying a larger one sometime in the future.
Once you have developed a small list of compatible fishes, you can start purchasing them ONE AT A TIME. The basic procedure for adding new animals is primarily the same for most marine animals including corals and invertebrates.
1) Turn off the lights in your aquarium. Leave them off for the rest of the day. This will minimize light shock.
2) Float the bag in your aquarium for 15 min to equalize the temp.
3) Add about 1/4 cup of aquarium water to the bag every 5 minutes, until the bag is 3/4 full or about an hour to an hour and a half. This will equalize the PH and Salinity and minimize the possibility of shock.
4) Net the fish out of the bag and release it into the aquarium. POUR THE WATER FROM THE BAG DOWN THE DRAIN!
Ebay does not allow links in their guides so to view the entire article visit add http:// in front of the following in your browser: coralreefdepot.blogspot.com/2006/03/idiots-guide-to-reef-aquarium.html or visit the "About Coral Reef Depot" page at our store and follow the link. If this article was even a little helpful, please vote before you leave.
Guide created: 23/03/06 (updated 25/04/10)