You've just bought a Sony Alpha DSLR, maybe with the kit 18-70mm (or new SAM 18-55mm) zoom lens. For starters, this is a pretty good zoom lens, especially when you only pay about $50-$100 more to include the lens with your camera body purchase. In fact, in order to get a decent wide angle at an affordable price, this lens is about your only option. I highly recommend that you purchase the kit zoom when you buy your DSLR unless you are already invested in wide angle glass or have much higher aspirations as far as price goes in wide angle lenses. In the spirit of this initial recommendation, my intent with this guide is to keep the emphasis on affordability without sacrificing quality in the lenses that I'm going to recommend...
Now that you have your new digital camera, you will want to take advantage of the ability to change lenses and you've heard that eBay is a great place to buy previously owned vintage Minolta Maxxum lenses that are compatible with your new Sony alpha mount DSLR. A quick search reveals dozens of lens models of various optical and build quality with varying focal ranges and aperture numbers. Confused? Here is a list of what I consider to be a few of the best affordable Minolta Maxxum lenses available for the average photographer. It is by no means all encompassing, and your needs may dictate different choices, but in my opinion the suggestions below offer a good start to expanding your shooting range and maintaining your budget. Many lenses are reviewed in further detail in my other guides.
By affordable, I'm thinking under $200 for an optically excellent lens in excellent condition, but I'll include a few options for slightly higher priced glass as well. I don't think Sony offers anything off the shelf at this price, so it's a reasonable starting point. Remember that your camera system is only as solid as its weakest link. If you've just spent $500-$1400 on a new Sony DSLR, you probably won't reap all of its potential if you attach a $25 piece of glass to it. I can't emphasize this point enough. Today's DSLRs are capable of such fine image quality that it really would be a shame to be shooting with a lens that creates a less than optimal final image.
In my opinion, many of the best Minolta lenses on the used market today in terms of affordability and excellence were part of the original vintage series that started production in 1985. Along with the introduction of the groundbreaking Maxxum 7000 and 9000 autofocus film SLR's, Minolta engineered a fine catalogue of beautifully designed and well built lenses that are readily available on eBay. As I mentioned, they are all 100% compatible with all the new Sony DSLR's and are readily recognizable with their black enameled surfaces and wide-ribbed rubber grips.
1. Prime Lenses
Minolta AF Maxxum 50mm f/1.7
Probably the one lens that every Sony shooter should have in their gear bag is the vintage 50mm f/1.7. It is the one truly affordable prime lens that you can purchase. Sony doesn't make this lens, only the faster and more expensive f/1.4 version, so you'll only find the f/1.7 on the used market. You'll want this lens for several of it's qualities including the very sharp image it produces and it's low light capability. It is a small lens, easily carried, and is great for portraits and general shooting. If you like a nice quality blurred background ('bokeh' in Japanese), this lens really does the job when the aperture is opened up. Because it was the "kit lens" from the late '80's and sold with all those Maxxum 7000 film cameras, it is readily available and for just over $100 represents an excellent value considering how "fast" it is and how very good the optics are.
Sony recently released the 50mm f/1.8 SAM lens which is a DT lens (compatible with aps-c cameras, but not full frame digital or film) and while you do get a new lens and 1 year warranty, I am partial to the Minolta model. Sure, because that is what I sell, but also because the build on the Minolta is so much better, particularly on the lens mount, which is metal. One drop of the Sony SAM, and if it hits the plastic flanges of the lens mount, chances are your lens is not going to attach to your camera anymore. Minolta went to a plastic mount in its low end zooms in the late '90's and I've seen plenty with broken lens mounts. Furthermore, the Minolta is compatible with full frame sensor cameras. You may not be interested in an A850 or A900 now, but as prices on these cameras drop and new models are introduced over time, the full frame sensor may become the industry standard. I think it is better to plan for the future and to have compatible glass than to go out and repurchase lenses for a new camera. Both lenses have nice image characteristics so ultimately you will have to decide which is best for you.
Because I'm assuming you already have the 18-70mm or the new and improved 18-55mm, I don't think initially you will want or need the 24mm or 28mm prime lenses, unless you have a particular need for the faster aperture or better image quality that these lenses would offer over the kit lens. If you shoot architecture, interiors and/or indoors a lot, you might want one of those wider primes. They are a better choice for group/family photos up close with the wider field of view in comparison to the 50mm lens. The f/1.4 and f/2 lenses (28/2, 35/1.4, 35/2, 50/1.4, 85/1.4, 100/2) available in the standard focal range are all prohibitively expensive for the purpose of this guide, but they are all very excellent lenses you may also consider at some point. Advantages the Minolta lenses have over the Sony's include a better, more robust build (including metal lens mount), faster apertures and better image characteristics, but the Sony zooms are a bit more convenient with regard to fewer lens changes.
Other Prime Options
Minolta AF Maxxum 135mm f/2.8
If you want to try your hand at fast aperture short to medium telephoto shooting, this lens is about your only real option that is still 'sort of' affordable. This lens fetches about $300-$400 in used condition on eBay, so it isn't inexpensive, but there is nothing else this fast at this price. At 135mm, on digital it is like shooting with a 200mm telephoto lens. It has a nice, wide f/2.8 aperture glass in a very small package as well as excellent optics and build. Any zoom that covers this focal length will be f/4 or smaller in aperture at this price. The 135/2.8 is a more rare offering on eBay - I might list 2 or 3 a year. I had one, sold it, missed it and bought it again as a stepping stone between my CZ24-70 and Minolta 200mm lenses I carry while traveling.
Beyond this lens, for primes, you get into the white Minolta APO G lenses, and these will set you back $1000 to $2000 in the medium telephoto range.
Minolta AF Maxxum 50mm f/2.8 Macro

If you want to take high quality images of bugs and flowers and things, this dedicated 1:1 macro is an excellent choice and will run you $200-300. Macro images with this lens are a huge step up from the 1:4 macro that most zooms reproduce, plus you get a faster f/2.8 aperture and one of the sharpest lenses in the industry. Downside on this lens is a slower focus compared to the 50mm primes, but this has to be expected when you can focus from inches to infinity using one lens. It's still very usable as a portrait or general shooting tool also. Newer versions of this lens have a focus limiter switch which can improve focus speed. Manual focus is always an option and in many cases is preferred during macro capture. The working distance can be pretty tight at 50mm and bugs might scurry off when approached too aggressively with this lens. (Solution: 100mm macro at twice the price!) Some of these used lenses have mechanical issues, so I'd recommend reading my guide on this lens titled "Buyer Beware...." if you are considering a purchase on eBay.
Minolta AF Maxxum 100mm f/2.8

Probably the gold standard of macro lenses, the price on this lens (about $400 used, puts it outside the scope of this guide) but I mention it because IF you are considering a 50mm macro but want or need the extra working distance that the 100mm macro affords AND consider the 135/2.8 an attractive focal length in itself, then this lens is a neat compromise that could combine both those purchases into this one lens at a relative savings compared to buying the other two individually. See? That's what lens buying is all about - convincing yourself that you really do need to purchase a lens by rationalizing it, and then doing a really fine sell job on it to your wife. (That's the hard part! Tip: Be sure to sprinkle your sales presentation with the words "shoes", "jewellery", "designer purse", "blouse" etc. to weaken her resolve...)
2. Zoom Lenses
Minolta AF Maxxum 28-85mm f/3.5-4.5

If you didn't get the kit lens, this is a very solid alternative; but it does not provide much of a wide angle. I'd consider it redundant if you already have the kit 18-55/70mm but it does have the 1:4 macro capability, a bit better image quality and very nice Minolta 'colors'. It's very affordable on eBay and might be worth adding to your bag. Vintage Minolta lenses were designed for 35mm film and manufactured at a time when 28mm was about as wide as most hobby photographers could afford or needed to go with their wide angle to get a decent landscape. With the aps-c crop, 28mm gives you the field of view of a 42mm "standard-ish" focal length on digital, so you'll need to invest in something a lot wider to complement any lens that starts at 28mm like this one does. The good news is that with this lens, you get a 1:4 macro function, very nice image quality, solid build and the price for a good copy is under $100. A great combo without the kit lens would be a Minolta 17-35, Sigma 10-20 or Sigma 15-30 with this lens or its sister, the vintage 35-105mm. The drawback is that these wider lenses are more complex and therefore more expensive ($250-$500)
Minolta AF Maxxum 28-105mm f/3.5-4.5
Here is second generation lens that was released in 1994 and then updated in 1997. Both versions are identical inside despite a slightly different cosmetic appearance. This is a higher grade consumer lens that sports aspherical elements for a more compact design as well as a 7 blade aperture for nicer bokeh. It's Minimum Focus Distance is only 18" and the lens has a responsive and quick internal focus, so circular polarizer use is much easier. I also like the extended focal range to 105mm. Like most other zooms of the era, the wide end isn't terribly wide on an aps-c sensor, but the range translates into 42-157mm on these cameras - very useable. Add a wide angle zoom and again, you have a great combo. The 28-105's sell for about $150 in nice condition with caps and hood.
Minolta AF Maxxum 100-200mm f/4.5

This is the sleeper lens of the bunch - it remains extremely affordable at about $100 in good used condition on eBay. It is sharp and lightweight, with the nice vintage metal build. The maximum aperture is a constant f/4.5 whereas most other zooms float up to f/5.6 or higher. I used one of these for almost 20 years while shooting film and only traded up once I developed a lens buying addiction. If you are starting out, for the price and quality, this is the best value in telephoto zooms, period. If you are tapped out after buying your camera but want to extend your reach to 200mm, this is your lens. I highly recommend the 100-200/4.5 and guarantee you won't be disappointed with it. The only 'cons' include a longer minimum focus distance of about 4.5 feet and a bit slower AF, but this is not an 'inside the house' lens so these factors shouldn't be a huge issue. The 100-200mm is the ulitmate hiker's telephoto because of its smaller size and weight.
Minolta AF Maxxum 70-210mm f/4 (The "Beercan")

It's a step up from the 100-200mm in every way. A little wider range, a little faster aperture, maybe a little sharper and a lot bigger in size. The price of this lens has been moving upwards as long as I've been selling on eBay, and it firmly commands about $200 in excellent condition nowadays. It is the gold standard in medium range telephoto glass for the Alpha mount with the best optical performance in its class and there is nothing better until you move up to the big white zooms or consider the new Tamron or Sigma 70-200/2.8's which will run you $700-$800. If it's within your budget, the "Beercan" is still the telephoto to get.
Minolta AF Maxxum 70-210mm f/3.5-4.5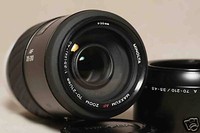 This is the faster and much better designed of two versions of this lens (the other is f/4.5-5.6) and it has excellent optical qualities. It's a little tougher to find, but offers a relatively lightweight lens that is great for travelling or hiking with, yet still has a wide telephoto range and faster aperture for around $150. Quite comparable to the 100-200/4.5, but a little more range on either side, a bit better image quality and a little faster at the low end.
Other Zoom Options
Minolta AF Maxxum 28-135mm f/4-4.5

This standard zoom is a personal favorite. I used it for most of my outdoor shooting until picking up a CZ 24-70/2.8. It's sharp like crazy, has the 1:4 macro and fast AF with its unique (at the time) rear internal focus design. It's wide focal range minimizes lens changes. This can reduce sensor dust spots appearing in your photos from contamination as you minimize how often the mirror box is briefly exposed during lens changes. It has the vintage Minolta solid metal build and legendary Minolta 'colors' in its image reproduction. With all that metal and glass, it's no lightweight. On the downside, the 4.5 foot minimum focus is its achilles' heel making it useless in confined spaces, there is no dedicated hood (flare) and it's hard to find a nice copy (which will run you around $300-$400) that isn't worn out on eBay. Again, outside the realm of this article, but a fantastic lens and something to aspire to owning.
Minolta AF Maxxum 75-300mm f/4.5-5.6 D (Silver)
While certainly not a vintage lens from 1985, this newer lens was the last model of it's kind produced by Minolta in 2001 and was rebadged by Sony in 2006 as the SAL75300. I'm including it because it is an excellent lens with a wider focal range all the way to 300mm. Popular Photography reviewed the Sony version (optically identical to the Minolta) and were surprised at how well it performed and how sharp it was, even at the 300mm setting. It's another sleeper for sure. You can find this lens for around $100-$150 in good condition, so if you really need 300mm range, this is the best lens to get there with for the price. There is a non-D silver version which was an earlier model and it has a different internal element design, so make sure you get the D version which means it has the ADI (Advanced Distance Integration) flash exposure feature. This ADI isn't what makes the lens so good, it's just an easy way to identify the right lens.
Sigma 10-20mm f/4-5.6 Ultra Wide Angle Zoom

Definitely not vintage, nor is it Minolta, but I get emails all the time for recommendations on a good wide angle lens for digital (aps-c sensor). This is not an "affordable" lens, but if you want to capture true ultrawide and wide angle photos, you'll need an ultra wide angle lens like this one that translates to a 15-30mm focal range on film. I think it's the best value and performance in its class, but it will cost around $500 new. Used copies aren't readily available and command near new pricing when they do show up on eBay. The wide end of the range on an aps-c digital camera is the most expensive to fill - these lenses are complex and there's just nothing else available that will do the job.
Couple the Sigma with the 18-70mm, 28-85mm or 28-135mm zoom and a Beercan (or 100-200mm) and you've got a great 3 lens zoom kit that will cover all of your needs and expectations while keeping lens changes and pocket book damage to a minimum. Add the 50mm for low light and unless you develop "the addiction", you shouldn't need anything else! (....but you will!)
Before buying any used lens on eBay, I'd recommend that you read my #1 guide "How to Buy a Used Lens on eBay" for tips on how to ensure a good quality used lens shows up in your mailbox after your purchase.
Thanks for taking a moment to click "yes".
Guide created: 12/06/08 (updated 04/12/13)