What is Pepper Spray?
Pepper Spray is also known as OC spray (from "Oleoresin Capsicum"), OC gas, capsicum spray, or oleoresin capsicum. This is a lachrymatory agent (a chemical compound that irritates the eyes to cause tears, pain, and even temporary blindness) that is used in riot control, crowd control and personal self-defense, including defense against dogs and bears.
It is a non-lethal agent that can be deadly in rare cases. The active ingredient in pepper spray is capsaicin, which is a chemical derived from the fruit of plants in the Capsicum genus, including chiles. Long-term effects of pepper spray have not been effectively researched.
The HPLC (High Performance Liquid Chromatography) method is used to measure the amount of capsaicin within pepper sprays. Scoville Heat Units (SHU) are used to measure the hotness of pepper spray.
Pepper spray typically comes in canisters, which are often small enough to be carried or concealed in a pocket or purse. Pepper spray can also be bought concealed in items such as rings. There are also Pepper-spray projectile available, which can be fired from a paintball gun.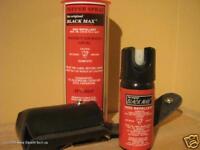 Is Pepper Spray allowed in Canada?
In Canada, pepper spray is classified as a restricted weapon[1], only Peace Officers (Police, Conservation Officers, CBSA, Bylaw Officers, Animal Control Officers, Special Constables, etc.) may legally carry pepper spray for use on humans.
A number of dog and significantly stronger bear pepper sprays are legal to own. However, use of these items against humans will most likely result in the user being prosecuted.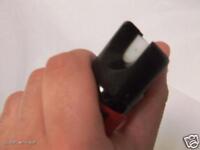 What to do if sprayed?
Though there is no way of completely neutralizing pepper spray, its effect can be minimized or stopped. As veteran chili eaters know, capsaicin is not soluble in water, and even large volumes of water will have little to no effect. It is, however, soluble in fats and oils, so milk or detergents can be used to blunt its effects and wash it off. North American street medics use a non-toxic eyedrop solution of 1:1 water and aluminum hydroxide (Maalox) which helps neutralize pepper spray and relieve symptoms.
Victims should be encouraged to blink vigorously in order to encourage tears, which will help flush the irritant from the eyes. Some of the oil can be washed off the face using a degreasing, non-oily soap such as a mild dish detergent, and a fan will provide some relief.
Some "triple-action" pepper sprays also contain "tear gas" (CS gas), which can be neutralized with sodium metabisulfite (Campden tablets, used in homebrewing), though it, too, is fat-soluble and could be washed off to a degree with milk, and some contain a UV "blanketing" dye (little can be done against this, but its effects are not nearly as dramatic).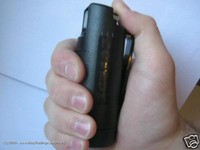 Does this really work?
Here is what Christopher from Alberta, Canada said about Black Max Dog Repellent:
"I just test fired for familiarity and I am quite impressed by the stream and mist it gives off. I tried it on my sink in the basement and upon approaching the sink my nose started to close up and irritated my eyes. Very nice stuff, would hate to get hit by it. Thanks for the great product."
The effects of pepper spray including temporary blindness which last from 15-30 minutes, a burning sensation of the skin which last from 45 to 60 minutes, upper body spasms which force a person to bend forward and uncontrollable coughing making it difficult to breathe or speak for between 3 to 15 minutes.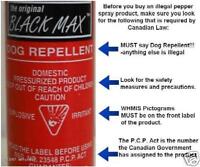 There are a few different brands of dog repellent being sold on eBay, what's best?
Before you buy dog repellent a few things to make sure you know:
Does the product have an expiry date?
What is the PCP Act number (Canadian government registration number)
What size (some sell 20g, 22g and 40g units)?
Does it come with a clip or case to carry it?
Where is it shipped from (will customs allow it to enter Canada)?
What is the strength?
How far does it spray?
Can you test-fire the product?
We recently made a purchase of Defiance Pepper Spray, when it arrived a few weeks later it was packaged in a bubble envelope. We opened that to find the pepper spray inside a plastic lunch baggie with some cotton on top to try and prevent an accidental discharge in transit, there was no clip or case, just the option to buy a case for $9.00 extra!
Black Max comes professionally packaged and is shipped in a hard plastic tube to protect it in transit and with a free case.
The Black Max brand of dog repellent is a Canadian company and is sold exclusively by StealthTech on eBay. Black Max comes with English and French labels for sale in Canada. It comes packaged, with a free case. Black Max is registered under the P.C.P Act No. 23548 for sale in Canada.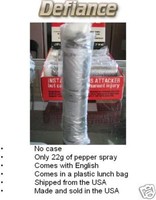 (C) 2008 StealthTech.ca
Guide created: 24/06/07 (updated 27/08/13)